Eggs galore at Great Prescott Easter Egg Hunt on Saturday

Originally Published: April 18, 2019 10:16 p.m.
Hop over to Mile High Middle School for the "eggstravaganza" that is The Great Prescott Easter Egg Hunt this weekend.
Held from 11 a.m. to 1 p.m. Saturday, April 20, on the field at Prescott Mile High Middle School, 300 S. Granite St., this year has 25,000 eggs scattered across three hunts while the Scouts make rockets and the Salvation Army colors Easter eggs, said organizer Steve Gottlieb. There are 1,000 eggs from Hickman's Family Farms that are available for coloring.
The first egg hunt, for children 5 and younger, is at 11:30 a.m. and the second, for 12 and younger, is at noon. It's the third egg hunt, also for 12 and younger, at 12:30 that includes the chance to find the golden ticket and get a Playstation 4.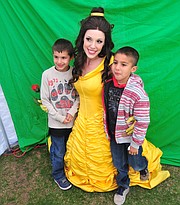 "The last one is going to be pretty insane because there's a Playstation in there somewhere," he said. "How cool is that? Some kid's going to take that home."
The kids who want to be a part of that hunt need to get to their spots by 12:30 in order to be included in the hunt, Gottlieb said. He's excited for it because it's different and adds a little competition.
The reason he added the Golden Ticket is because he wanted to have something that his 11-year-old son would enjoy, Gottlieb said. The younger kids get mesmerized by the eggs, candy and Easter Bunny, but as they get older, the magic of the Easter Bunny fades, he said. Adding the gaming system makes it a lot more fun.
This year, the Great Prescott Easter Egg Hunt is put on with the support of Courier Cares. The Courier cares deeply about the area's children, said Lew Rees, events & marketing director for Western News&Info. The perfect way to show that is to watch them find out what's in those eggs, Rees said.
"It's good for the community," he said.
It's definitely a fun family event that has the community in mind and offers something for the kids in the community to do, Gottlieb said.
Admission to the Great Prescott Easter Egg Hunt is $5 for kids and free for adults. for more information about the event, visit www.prescottevents.net.
SUBMIT FEEDBACK
Click Below to:
More like this story