Bill to outlaw 'distracted driving' also on governor's desk
'We need this bill for other activities'

Originally Published: April 18, 2019 5:51 p.m.
House Bill 2318 was not the only measure to pass on Thursday.
While it passed 44-16, lawmakers also voted 31-29 – strictly along party lines – for SB 1141. That is a totally separate measure to outlaw "distracted driving," which also will go to the governor.
Rep. John Kavanagh, R-Fountain Hills, said the two bills are not in conflict. On one hand, he said it is clear that texting while driving is "inherently distracting" and needs to be banned outright, as HB 2318 would do.
"But we need this bill for other activities," he said of SB 1141.
And Rep. Travis Grantham, R-Gilbert, said the problem with simply focusing on texting and cell phone use is that it fails to address other things that people do.
"I've seen people going down the road brushing their teeth, which I don't really understand," he told colleagues.
"There's people eating burritos who are swerving because they're trying to put sauce on their food," Grantham said. "Anything can cause a distraction."
He questioned what will happen when someone gets killed by a motorist who is reading the newspaper.
"Are we going to run a ban-newspapers-while-driving bill?" he asked.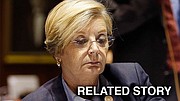 But unlike the strict texting ban, SB 1141 would not allow a police officer to stop a motorist solely for texting or doing other things, like reading a newspaper. That could occur only if there is evidence that whatever the driver was doing also resulted in an immediate hazard or failure to control the vehicle.
Thursday's votes occurred with family members of those killed by texting motorists watching in the gallery. House Minority Leader Charlene Fernandez, D-Yuma, specifically addressed the survivors of Clayton Townsend, an officer with the Salt River Police Department who was killed in January when he was struck by a texting motorist while conducting a traffic stop.
"We're going to get it done today," she told them.
"I understand the pain of what happened, of losing these officers," said Rep. Anthony Kern, R-Glendale. But he voted against the measure, saying "it goes a little bit too far."
Related Stories
More like this story
SUBMIT FEEDBACK
Click Below to: