2019 Report: Prescott Valley among Arizona's safest cities

Originally Published: April 17, 2019 11:22 a.m.
Updated as of Thursday, April 18, 2019 5:42 PM
Prescott Valley is the 11th safest city in Arizona, according to a new ranking by a data collection company called SafeWise. That's down one position from the previous year's report.
Prescott Valley and Lake Havasu City were the only northern Arizona communities included in the list of the 20 safest cities in Arizona. Havasu was ranked 14th.
Bullhead City, which was ranked 11th in the 2018 report, dropped off the list completely. Prescott was ranked 21st.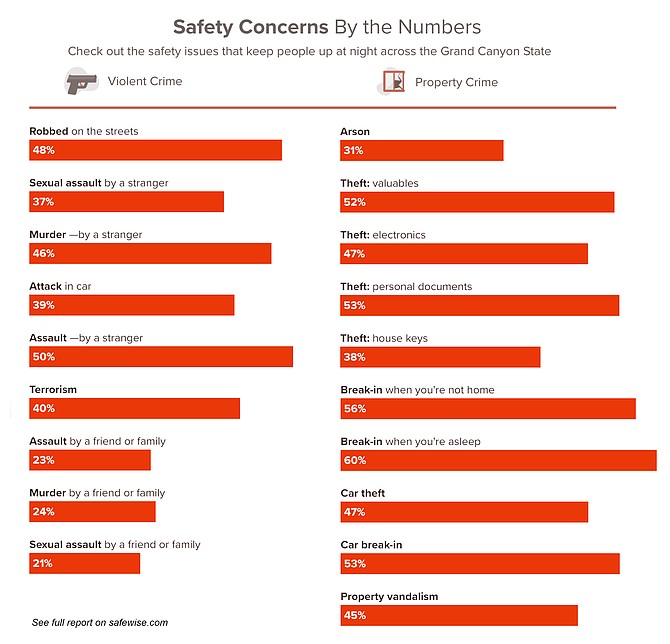 Arizona's safest city was reported to be Oro Valley, a city just north of Tucson with a population of 44,251 and a violent crime rate of .38 crimes per 1,000 people.
The Top 20 list for Arizona included:
1 - Oro Valley
2 - Buckeye
3 - Florence
4 - Gilbert
5 - Marana
6 - Surprise
7 - Sahuarita
8 - San Luis
9 - Scottsdale
10 - Maricopa
11- Prescott Valley
12- Apache Junction
13 - Nogales
14 - Lake Havasu City
15 - El Mirage
16 - Douglas
17 - Peoria
18 - Chandler
19- Goodyear
20 - Avondale
The survey was based on data from the 2017 FBI crime report, the US Census Bureau's 2013-17 American Community Survey, and SafeWise's own 2019 State of Safety survey.
Prescott Valley, according to the report, had 1.96 violent crimes and 21.44 property crimes per 1,000 residents.
The next safest cities were Buckeye, Florence, Gilbert, Marana and Surprise.
The Safewise survey found that 35 percent of Arizona's safest cities had no counts of murder reported in 2017. In a survey of residents called the State of Safety Study, Safewise says property crime and digital security were tied for the state's most concerning issues.
Break-ins were the most concerning property crimes, and losing money through hacking and scams were the biggest digital security concern, the company said.
Being physically assaulted by a stranger was the top violent crime concern, and every city on the list reported 10 or more aggravated assaults.
Check out the full Arizona report here.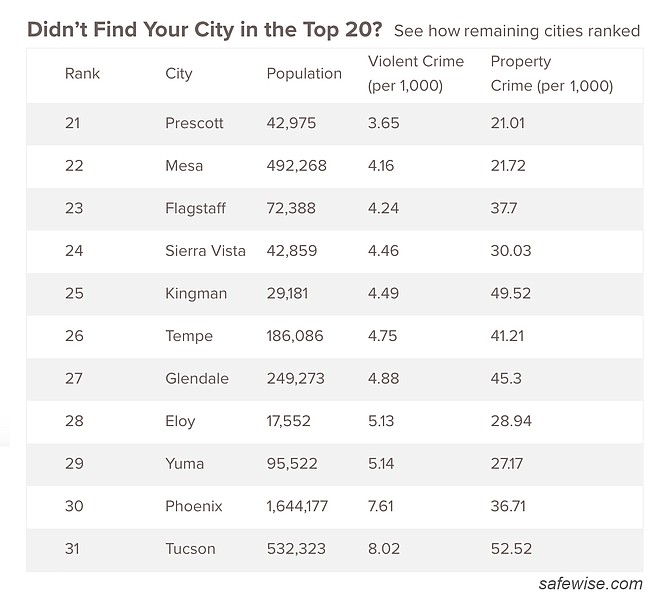 In a similar 2019 report compiled by the National Council for Home Safety and Security, Prescott Valley ranked 15th out of the 40 in their list of Arizona's safest cities. Florence came in first overall for 2019. Prescott ranked 25th.
More like this story
SUBMIT FEEDBACK
Click Below to: