Funny and strict, meet and greet, advocate and serve
Bradshaw Mountain Middle School's three Very Important People

Originally Published: April 16, 2019 5:26 p.m.
Three important people working or volunteering at Bradshaw Mountain Middle School were honored Tuesday, April 9, at the Humboldt Unified School District Governing Board meeting.
Earning the VIP award for certified teachers is Carissa Johnson, who has taught English Language Arts at BMMS for the past five years. Her students say she leaves no one behind, and makes sure everyone understands the work while never turning a blind eye.
"She is strict but also very nice. She is the teacher that sets us up for the future," one student wrote.
BMMS Principal Jessica Bennett said students give back 100 percent to their teacher because, "Ms. Johnson is poised, professional and gives 100 percent to her students."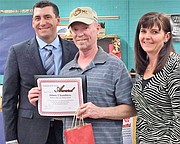 Bennett nominated John Chambless, lead maintenance worker, for the VIP classified employee, commenting on Chambless' pride in the campus and leading a team that provides a clean, safe, well-maintained campus every day.
"He is the first person each day to open the gate to the school and to greet students," Bennett said. "He is a great mentor for students who are assigned to help clean tables or sweep, and he finds any chance to build a relationship to support our students."
She added that Chambless understands that kids are messy, curious and rebellious at times, and he takes it all in stride. "He knows kids make mistakes," she said.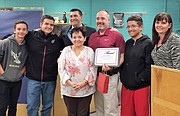 Bennett asked that Robert Walker, VIP volunteer designee, and his family come to the podium as she honored the entire family. Walker and his wife, Tricia, are members of the school's Parent Teacher Student Association, and attend all the school events.
"If students need anything, Robert and Tricia find a way to help a student in need," Bennet said. "As a parent of a son with special needs, the Walkers also help to advocate for and support families with students who have special needs. They truly care about all kids."
Follow Sue Tone on Twitter @ToneNotes. Reach her at stone@prescottaz.com or 928-445-3333, ext. 2043.
More like this story
SUBMIT FEEDBACK
Click Below to: