No. 16 Cougars come out flat, suffer 4-0 loss to Bulldogs
Prep Baseball

By
Aaron Valdez
|
valaaron_94
Originally Published: April 15, 2019 9:27 p.m.
Chino Valley — No. 16 Chino Valley couldn't muster one run against a complete-game, nine-strikeout performance from Kingman pitcher Rilee Araya as the Cougars fell 4-0 to the No. 10 Bulldogs on Monday afternoon.
Photo Gallery
Chino Valley Vs Kingman Baseball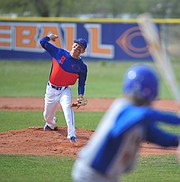 "We kind of came out flat and stayed that way with our bats," Chino Valley coach Mark Middleton said. "It seemed like we were putting ourselves in a hole, not being aggressive at the plate and finding ourselves down in pitcher's counts and I think that was a huge detriment."
The Cougars only managed to record four hits while Kingman finished with 12 hits. Middleton said he opted to go with pitcher Jayden Torres since the Kingman bats have struggled with off-speed pitchers.
"Kingman is not a very off-speed hitting team but they can hit the fastball like anybody else," Middleton said. "So our mindset there was that we weren't going to go power even though Jayden Torres can switch speeds really well. The problem was that he didn't have a lot of command over his off-speed stuff."
Despite keeping the Bulldogs (15-5, 6-2 West) off the board for the opening inning, Torre's troubles reared their ugly head in the second when Kingman drove in a run off a sacrifice fly to left field. In the following frame, the Cougars surrendered another couple runs as their deficit grew to 3-0.
Kingman bagged their last run in the fifth inning and eventually cruised to the 4-0 victory. The closest that the Cougars ever came to scratching was in the second and fourth innings where they had runners on third base each time. However, their efforts were thwarted each time by one of Araya's nine strikeouts.
In terms of reaching the playoffs, Chino Valley's chances are still looking healthy as this loss will only count as a minor hit being that Kingman is already ranked so high. With four games left on the schedule, including a crucial game against No. 7 Northwest Christian (13-9, 5-3 West), the Cougars will be vying for a potential home game in the opening round of the playoffs.
"From here on out, we got to beat the teams we are supposed to beat and we've got to play a little better with teams that we think we have chance against," Middleton said. "I like how we are sitting. As of right now, we are still in the playoffs and it's not going to kills us to lose to a higher-ranked team but we got to take care of lower-ranked teams."
UP NEXT
Chino Valley (9-10, 2-6 West) will taka brief break from region action to take on No. 6 Snowflake (10-3, 4-3 East) on the road on Wednesday at 4 p.m.
Aaron Valdez is a sports reporter for The Daily Courier of Prescott News Network. Follow him on Twitter at @Valaaron_94. Email avaldez@prescottaz.com or call 928-445-3333, ext. 2031.
More like this story
SUBMIT FEEDBACK
Click Below to: