Nearly 700 new apartment units currently in the works in Prescott

By
Cindy Barks
|
Cindy_Barks
Originally Published: April 13, 2019 7:57 p.m.
Editor's note – This is a continuation of an ongoing series of articles highlighting "Trends: Living Spaces" in the greater Prescott area.
With approval of a new apartment project this past week and the pending groundbreaking for another, a total of five large complexes could soon be under construction within Prescott city limits.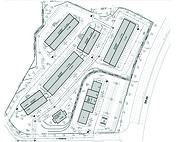 That includes three major complexes that are already underway, and two new projects that took officials steps forward in recent weeks.
In all, the new complexes would total nearly 700 rental units – effectively filling the 500-to-700-rental-unit deficit that previous studies have estimated in Prescott.
On April 9, the Prescott City Council approved a site plan and water service agreement for a new mixed-use project at the corner of Highway 69 and Robin Drive.
Developer Michael Lafferty said the nine-acre Peaks View project would consist of five three-story apartment buildings totaling 155 units, as well as a leasing/clubhouse building.
In addition, the Peaks View project would add a commercial component along the highway. Lafferty's information shows that approximately one acre of the parcel is being slated for a gas station/mini-mart, a wine bar café, a coffee café, a nail spa, and a pet spa.
The start of the project is likely still more than a year and a half in the future, however, because Lafferty said he would wait until his other Prescott project – the 200-unit Dells View luxury apartment complex off Willow Lake Road – is well into the construction and leasing phase.
After the council meeting, Lafferty said the design and permitting phase of Peaks View would take at least a year to complete. He estimated the ground-breaking for the Highway 69/Robin Drive would take place by about January 2021.
Along with approval of the Peaks View site plan, the City Council approved a 23.25-acre-foot per-year water allocation.
DELLS VIEW
More imminent than the Peaks View project is the start of Lafferty's other major apartment complex in Prescott – the Dells View.
That apartment complex, which will replace the deteriorating Dells View Mobile Home Park near the corner of Willow Lake Road and Highway 89, will consist of four three-story buildings, as well as a common-area building for the office and project amenities.
In early April, city officials said the Dells View project had received its necessary building permits, and Lafferty said he was ready to get started on construction. On Tuesday, he said the groundbreaking was being scheduled for this month.
The Dells View construction is expected to be done in two phases and take a total of about 20 months to complete. Lafferty said Tuesday that he does not expect to break ground on the Peaks View project until leasing is underway at Dells View.
ALREADY UNDERWAY
In December 2018, Prescott Planning Manager George Worley noted that the recent surge in apartment units would mark the first time in almost two decades that Prescott's supply of rental units would meet the demand.
Previous city studies have shown a 500-to-700-unit void in the number of apartment units available in Prescott, Worley said.
Projects that are already in the construction phase include:
• A 100-unit complex at 3740 Lee Circle, near the intersection of Highway 69 and Lee Boulevard.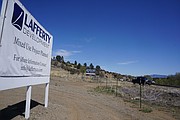 Grading work proceeded fairly smoothly and is now complete at the site for the Winfield at the Ranch complex, said Peter Swingle, the project architect with the Phoenix-based Athena Studio LLC firm.
Recent work has focused on underground utilities, footings for stem walls, and retaining walls. Swingle expects building framing to begin by about May or June.
Because of 45 days of weather delays this past winter, Swingle said construction has been slowed somewhat. Based on that, he expects the project to be complete by about February or March 2020, rather than January, as originally projected.
The luxury-apartment project consists of six residential buildings and a clubhouse, and will include 48 one-bedroom apartments and 52 two-bedroom units.
• The 160-unit Willow Creek Apartments complex at 3137 Willow Creek Road.
Project spokesperson Patty Johnson said Friday, April 12, that the complex's clubhouse and first four carriage rental units would be complete by May.
After that, developers expect to have about 24 of the total units being completed each month through September, when the final 60 units are slated to be complete, Johnson said.
The project began in 2015 and suffered major delays early on due to issues discovered during city inspection, Worley said, including problems related to leaky roofs and water damage to drywall, interior finishes, and the electrical system.
In December, a new contractor was on board, and said the project was back on course and that the original problems were being remedied and corrected.
Johnson reported this past week that the complex is currently taking reservations, adding that more information is available at: https://www.willowcreekaptsprescott.com/.
• A 73-unit complex at 510 Miller Valley Road.
The project, which is located near the McDonald's restaurant on Miller Valley Road, is planned to include six buildings with 12 apartments each.
Developers earlier estimated that the workforce housing project should be complete by about November 2019.
More like this story
SUBMIT FEEDBACK
Click Below to: