Fentanyl arrests, deaths are low so far this year in Yavapai County, but risks remain
PANT officials believe some behaviors are changing regarding use of dangerous drug
Originally Published: April 13, 2019 10:39 p.m.
Since January, only one individual has been arrested in Yavapai County for selling fentanyl. Albeit, it was a large bust.
Colorado resident Timothy Milliard, 52, was found transporting 10 pounds of methamphetamine and 501 fentanyl pills along Interstate 17 in late February. The arrest was the result of a traffic stop by a K-9 deputy from the Yavapai County Sheriff's Office.
"Those pills were destined for out of state, but they came out of the valley," said Nate Auvenshine, commander of Partners Against Narcotics Trafficking (PANT).
Auvenshine said there have been a couple other local arrests of fentanyl possessors, but PANT and its law enforcement partners haven't seen nearly as much of the powerful synthetic opioid as they were just six months ago.
"We're not encountering [fentanyl] at a sales level as frequently to what we were toward the end of last year, but it's definitely still present," Auvenshine said.
Why the slowdown has developed isn't entirely clear, but Auvenshine has some ideas.
"I think the attention given to it has been a positive factor; it has helped for sure," he said. "If nothing else, I think some people who were ignorantly taking this stuff have been made aware of the dangers, and I would like to think that has assisted in stemming some of the issues."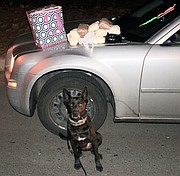 For instance, he has heard of only one suspected fentanyl-related overdose death in Yavapai County so far this year. While even one death is too much, he suspects the saturation of public information about the prevalence and dangers of fentanyl has prevented the death count from being higher.
"If anything, I think people are being more careful in their use of [fentanyl] in the sense of maybe not using as much initially," he said. "I've heard of a couple cases where people would just cut a pill in half and smoke half of a pill instead of smoking or ingesting a full pill."
And counter to what some people believe, there is a demand for fentanyl due to its potency and low price.
"It's very well-known now that pretty much any pill you get off the street is going to be fentanyl-laced mimic pills and people are seeking them out," Auvenshine said.
REMAIN VIGILANT
While fentanyl activity appears to have decreased at least for the moment in Yavapai County, Auvenshine encourages members of the public to keep their guards up and look out for each other in relation to drug use and abuse.
"It's important for everyone to remember that just because we're not seeing the same quantities [of fentanyl], it doesn't mean that people aren't still dying, and we need to maintain a community vigilance and continue to realize it's a continued risk to our community, to our youth and to our families," he said. "And we as law enforcement are going to continue to track down fentanyl users and dealers and any other dealers of drugs and deal with it, because it's a risk to all of us."
Anyone with information on potential illicit drug activity may call Yavapai Silent Witness at 1-800-932-3232.
Chris Wilson, Yavapai Silent Witness's coordinator, said the group continues to receive tips on fentanyl use and dealing in the county and that it has paid out some tipsters on fentanyl cases in recent months.
"We still have a good quantity of funds, which were donated primarily for fentanyl cases," Wilson said. "The community has been very generous in their donations related to this issue."
As is the organization's primary policy, a caller's identity remains anonymous throughout the process and you're never required to provide your name in order to receive a cash reward.
Share #StopFentanylNow
SUBMIT FEEDBACK
Click Below to:
More like this story