Days Past: Great dames of the Arizona stage
Tom Collins, Special to the Courier
Originally Published: April 13, 2019 9:20 p.m.
Men worshipped them. Women envied them. In the late 1800s and early 1900s, beautiful actresses dominated the professional theatre, and the best of them earned huge salaries and became icons of feminine allure.
In the Western states and territories, pioneers packed the theaters to get a glimpse of the legendary beauties whose personal lives were sometimes as sensational as the plays they starred in. Two of the many great dames who visited the Arizona Territory were Belle Archer and Olga Nethersole, both of whom represented the new liberated woman of the Gilded Age.
Belle Archer (1859-1900), a comic-romantic singing actress, created a sensation in Tucson and Phoenix in February 1899 when she played the role of Grace Holme in Charles Hoyt's "A Contented Woman," a musical comedy that poked fun equally at the corrupt world of politics and the suffragettes who challenged male authority.
Set in Denver, Colorado, the action of "A Contented Woman" revolves around the suffragists who have just won the right to vote. Feeling their power, they persuade the newly wed Grace Holme to run against her own husband for mayor of Denver. She refuses at first but gets on board when her husband unapologetically demeans the suffragists and women's intelligence. Grace wins the election but loses her happy home. She gracefully bows out and yields the mayoral seat to her husband, deciding to be an expert in home affairs. She'll be, once more, a contented woman.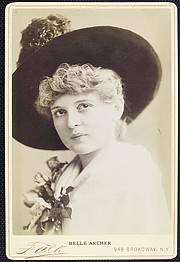 Archer was a big hit, but critics noted that she was far too self-conscious and stagy in her acting. She was beautiful and she knew it, and she paraded around the stage in beautiful costumes, letting the spectators know that she knew it. A disillusioned San Francisco critic complained that her "monotonously cadenced" delivery and her "misfit" gestures were more suited to the role of Lady Macbeth (San Francisco Call, 5-5-1896). There was no illusion in her acting; it was all showy presentation. Arizona audiences loved her anyway. Tragically, she died just one year after her triumphant appearance here, falling from a railroad platform onto the tracks in New York City.
The sultry Olga Nethersole (1867-1951) represented the opposite of Belle Archer's all-American-girl wholesomeness. She specialized in the roles of fallen women, shocking audiences with her wanton display of feminine sexuality.
Her greatest hit was the title role in Clyde Fitch's "Sapho", the heart-rending story of an artist's model in the demi-monde of Paris. She falls in love with a young man and lives with him out of wedlock. When her illegitimate child appears on the scene, he berates her for hiding her sordid past. Heartbroken, she leaves him to marry the little boy's father, whom she does not love, hoping to provide the boy with a respectable life.

"Sapho" played at the Tucson Opera House and the Elks Theater in Phoenix in December 1909. The Arizona Republican critic wondered why Nethersole didn't choose a more wholesome play to present to local audiences. "It is conceivable that to some the wrong may be made so attractive by the delightful and delicious acting of Miss Nethersole that the lesson is obscured and the moral emasculated." But her acting was flawless. "There is dramatic art in her fingertips, in every word she utters, in her silences." (Arizona Republican, 12-23-1909)
Join us at 2 p.m. Saturday, April 20, for a free lecture by author Tom Collins and his acting partner Karen Churchill who will tell the stories of three additional great dames of the Arizona stage in the Lawlor Building at the Sharlot Hall Museum.

"Days Past" is a collaborative project of the Sharlot Hall Museum and the Prescott Corral of Westerners International (www.prescottcorral.org). This and other Days Past articles are also available at https://www.sharlot.org/articles/days-past-articles.l. The public is encouraged to submit proposed articles and inquiries to dayspast@sharlot.org. Please contact SHM Library & Archives reference desk at 928-445-3122 Ext. 2, or via email at archivesrequest@sharlot.org for information or assistance with photo requests.
More like this story
SUBMIT FEEDBACK
Click Below to: