Dancing for the Stars sets fundraising record in 3rd year
10 couples perform to benefit Boys & Girls Clubs of Central Arizona
By
Doug Cook
|
dougout_dc
Originally Published: April 13, 2019 10:31 p.m.
PRESCOTT — When five working professionals, from law enforcement and medicine to business and construction, agree to step out of their comfort zones and practice dance moves for nearly six months, you know it must be for a good cause.
For the third consecutive year, Boys & Girls Clubs of Central Arizona conducted Dancing for the Stars, a major fundraiser that paired a handful of trained dancers with those preselected Prescott-area professionals to dance for two shows only at Elks Theatre on Saturday afternoon and evening, April 13.
Photo Gallery
Photo Gallery Dancing For The Stars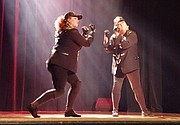 Corporate sponsors, members of the public and the celebrity dancers helped make cash donations, with all proceeds benefitting the approximately 600 children that Boys & Girls Clubs currently serves in Prescott, Prescott Valley and Chino Valley.
On the job for two months, Boys & Girls Clubs of Central Arizona interim executive director Nicole Kennedy said that about one-third of the organization's budget comes from Dancing for the Stars. This year, that figure amounts to a net of about $350,000.
"Dancing for the Stars really means everything to our organization because it's grown to become the largest fundraiser for the Boys & Girls Clubs, and it is instrumental in helping us serve over 600 kids a year," Kennedy added. "We have a waitlist now, going on four years [of serving more children]. It's humbling to see how the community rallies behind our dancers, who pour their heart and soul into what they do. We couldn't be more honored."
During the matinee performance, partners Veronica Phillips and Zach Leonard, Megan Holdsworth and Ron Howard, Laura Markey and Colten Davault, Ken Mabarak and Rachele Smith, Julie Cowing and Sarah Hinson, Judd Simmons and Marina Rogova O'Brien, John Mull and Alexis Pursell, Dr. Dan Beck and Jamie Procknow, Barry Barbe and Kelsey Claire, and Amy Bonney and Patrick Wilcox danced for an announced crowd of 500.
"It was a challenge, and I knew that it would be something I've never done before, but it's exhilarating," Beck said. "It was fun. Jamie's special. She's made me discover things about myself that I never thought I knew."
Procknow, who also teaches Zumba classes, said Beck's "an ambitious student."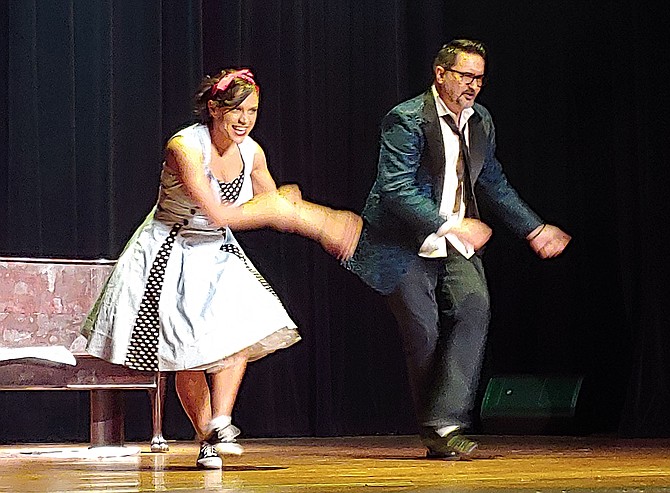 "He showed up to almost every [Zumba] class," she said. "Just that in and of itself showed a level of commitment that is above and beyond what you would expect of a student. He did that to get comfortable and to get acclimated to this idea, something that was so foreign to him otherwise."
The costumed dancers on the theatre's stage were hopping and bopping to myriad, disparate tunes. Beck and Procknow, for example, put on a feel-good performance to the rock and roll hits "I Wanna Be Sedated," from the Ramones, and "Sweet Dreams (Are Made of This)," from the Eurythmics.
Beck is a longtime anesthesiologist, which made those classics particularly appropriate. Nevertheless, Beck and Procknow, one of the celebrity dancers who has been active in the foster care and adoption communities, were ecstatic that Boys & Girls Clubs asked them to participate.
On the other end of the dancing spectrum were Bonney, Prescott police's deputy chief, and Wilcox, a ballroom dancer. The elegance of their ballroom-dance performance stood out. Bonney, who wore a long and flowing black-and-white dress, said learning to dance was one of the hardest things she's ever done.
"I totally took for granted [how difficult it is to learn dancing]," Bonney said. "I was like, 'Oh, yeah, I'll get up and do a few twirls.' No, it's very, very difficult, very technical, and I'm so lucky I had the best partner ever. He was so patient."
Bonney, who has been in law enforcement for the past 20 years here, said she agreed to dance because, first and foremost, she wanted to help children in need throughout the Quad Cities.
In the crowd, Denise Buchanan, Shawni McAtee, Melissa Fousek and Patrice Brinkman cheered on Bonney.
"It's amazing that they get up there and do that," said Buchanan, who works at Prescott P.D., of the dancers. "I wouldn't be able to get up there and dance in front of all those people. It's just a good cause for them to raise money for the kids like that. It's really amazing and it was so much fun to watch them."
Molly Fernow, development officer for Boys & Girls Clubs of Central Arizona, said the dedication required for the pairs to dance was significant. She added that the Kidney Foundation in Phoenix, where Kennedy had worked, had a version of Dancing for the Stars that Kennedy was given permission to modify for the Boys & Girls Clubs here.
"This group is very special — they've worked as an amazing team to really generate the most funds we've ever had for this event," Fernow said of the 2019 dancers. "They really created a bond and worked together and got competitive in a fun way."
More like this story
SUBMIT FEEDBACK
Click Below to: