Amazing Places: Lady Bugs

Originally Published: April 13, 2019 9 p.m.
This week my Amazing Place is actually an Amazing Insect, the second insect I've written about (the first was the bagworm on April 1, 2018). Today's insect is one everyone knows – the ladybug – or, if you're English, it's called a ladybird.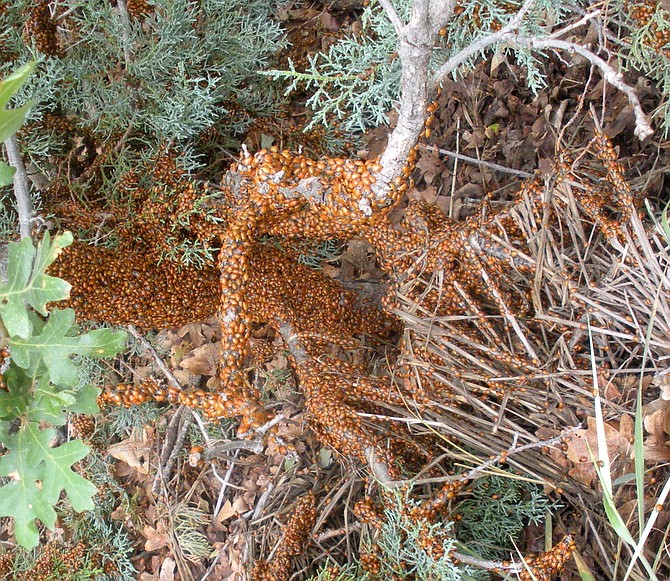 The "lady" is from the Virgin Mary — Our Lady. In Germany, the name (translated) is Marybeetle. The Turkish name when translated means "good luck bug". Other languages name this bug as "God's little cow". So, its appeal is worldwide.
Kids love this insect with its bright red color, and so do gardeners — it's great at eating pests like aphids. Entomologists, insect experts (not to be confused with etymologists, word experts), don't consider it to be a bug or a bird — it's a beetle. Not surprisingly, the Latin name for the ladybug family (Coccinellidae) means scarlet. However, there are thousands of different species in this family, with various colors other than red, and different numbers of spots.
In England, the common ladybird has seven spots, and they can also be found in the States — imported decades ago to control the bad bugs. It's a complete myth that the number of spots shows their age. The outer "shell" of a ladybug, called the elytra, has the red color and black spots — the wings are found under the elytra.

The first photo shows a large boulder covered in ladybugs, which I took on Aug. 18, 2005. As the days shorten, ladybugs in Arizona swarm together, ready for winter — this is like hibernation but the technical word is "diapause". I have found such swarms a number of other times in widely different locations around the state — from the Sierra Prietas to the Bradshaws to the Chircahuas – but always at the top of a hill or along a ridge. I haven't been able to find out why they like such heights. These swarms of ladybugs number in the hundreds or even thousands, and are an amazing sight to see. They congregate together to reproduce and perhaps for warmth. The life cycle from egg to adult is about a month. Adults can live for one to two years.

The second photo shows another swarm of ladybugs, this one on the small branch of a juniper tree, taken 11 years later on Aug. 26, 2016. Both times, these swarms were in late August, which seems rather early for winter. [I did revisit this second place on Sept. 29, 2017, and found ladybugs there again.] If any expert can tell me why ladybirds like heights and why they swarm so early in the year, please contact me. I did recently return to the same hill where I had found them twice, but they were long gone — spring had sprung.
If you contact me, I can tell you the two places where I've found them in the Prescott area — both locations require a hike of a few miles.
Well, now you have become very knowledgeable on the science and naming of ladybugs. Don't forget what you have learned because there will be a short test in my next article!
When I did my survey at the end of last year, I found out that many of my readers are armchair travelers. My last article on Sycamore Falls confirmed this. I thought the photos of the falls would encourage some of you to see these Amazing waterfalls for yourselves. Well, I received only one request for directions — from someone who has known me for years. Hiking group friends wanted directions, and one fellow in my doctor's office was planning to go there with his wife. He said she would contact me for directions, but that didn't happen. That's OK — enjoy your armchairs!
Nigel Reynolds (nigelaa@commspeed.net) was born in England and has lived in Arizona for 40 years, and in Prescott for over 20 years. "Exploring is in my blood," he says. To see today's or previous articles with the photos in color, visit dcourier.com and enter "Amazing Places" in the search-bar at top right — you'll need to be a subscriber.
More like this story
SUBMIT FEEDBACK
Click Below to: