Supaman to perform at Smoki's inaugural Native Arts Festival April 13-14
Event celebrates understanding, respect for indigenous culture

Originally Published: April 11, 2019 11:12 p.m.
Updated as of Saturday, April 13, 2019 9:36 AM
Native American rap artist Supaman is coming to Prescott this weekend as one of the performers in the Smoki Museum's inaugural Contemporary Native Arts Festival.
He's been an inspirational voice for Native kids for years, bringing a message of self-worth, self-value and good life choices, Smoki Museum Executive Director Cindy Gresser said.
"I am so thrilled that Supaman is coming," Gresser said. "I hope his message resonates not just with Native kids here in Prescott, but all kids here in Prescott."
Supaman's performance is at 4 p.m. Sunday, April 14, and is the capstone to a weekend-long festival that begins Saturday, April 13. The schedule also includes six-time World Hoop Dance Champion Nakotah LaRance; fashion by Wendell Sakiestewa and Penny Singer; music by Artificial Red, Coyote Slim, Immortal Sins; tattoo art featuring Landis Bahe; and a Mr. and Miss Southwest Two Spirit Pageant produced by former Miss International Two-Spirit Twix Ward and hosted by Shug De La Cruz.
Deciding on who have as part of the event came from figuring out who the best kinds of entertainers were, Gresser said.
"…who was really going to represent what we're trying to put forward here which is understanding and respect for the indigenous cultures of the Southwest, not just in the past, but today and into the future and where they're going," she said. "That's what this is all about."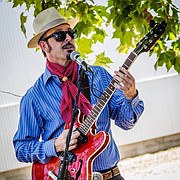 The festival is being put on with the support of APS, Courier Cares, the Arizona Community Foundation, Springhill Suites and other community partners that have come together because it's something Prescott needs and what the community wants, she said.
Admission is $5 per day and it includes everything.
The goal is not just to make this an annual event, but for it to be part of the transformation that has been ongoing at the Smoki Museum for 16 years and that will continue into the future, Gresser said. They have big plans and it's all about improved communication and greater understanding in how the Smoki Museum is very different than what it was 20 years ago, she said.
Lew Rees, events & marketing director for Western News&Info, said he is thrilled and honored to have Courier Cares be a part of and support the event. He truly believes it's going to be one-of-a-kind.
"We encourage everyone in our region to be there," he said. "It's going to be extremely unique."
The unbelievable artists who are going to be at the event, in addition to the education and insight into contemporary Native American culture, anyone goes to the Contemporary Native Arts Festival won't be disappointed, Rees said.
Gresser said she hopes everybody comes to the festival, citing the many different genres of music, dance performance, fashion, powwow and different forms of art that will be present.
"There's literally something for everyone at this festival," she said. "There's a million reasons to come out."
The festival begins at 10 a.m. both days at the Smoki Museum, 147 N. Arizona Ave.
For more information and a complete schedule, visit www.smokimuseum.org/cnaf-2019.
See related story: Smoki Museum prepares for first Contemporary Native Arts Festival April 13-14
SUBMIT FEEDBACK
Click Below to:
More like this story