Now Showing: April 12-18
Kudos staff
Originally Published: April 11, 2019 9:46 p.m.
Updated as of Monday, April 15, 2019 6:21 PM
Movies playing at Harkins Theatres, 7202 Pav Way, Prescott Valley (Highway 69 between Glassford Hill and Lake Valley roads), as of press time. 928-775-7444; www.harkins.com.
(NEW) MISSING LINK – Tired of living a solitary life in the Pacific Northwest, Mr. Link, who is 8 feet tall and covered in fur, recruits fearless explorer Sir Lionel Frost to guide him on a journey to find his long-lost relatives in the fabled valley of Shangri-La. Along with adventurer Adelina Fortnight, the trio encounters their fair share of peril as they travel to the far reaches of the world. Through it all, they learn that sometimes one can find a family in the places one least expects. Stars Hugh Jackman, Zach Galifianakis, and Zoe Saldana. Rated PG – fantasy, adventure.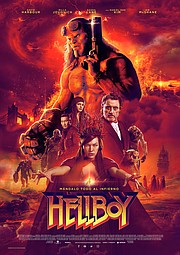 (NEW) HELLBOY – Based on the graphic novels by Mike Mignola, Hellboy, caught between the worlds of the supernatural and human, battles an ancient sorceress bent on revenge. Stars David Harbour, Milla Jovovich, and Sasha Lane. Rated R – fantasy, science fiction.
(NEW) LITTLE – Jordan is a take-no-prisoners tech mogul who torments her long-suffering assistant, April, and the rest of her employees on a daily basis. She soon faces an unexpected threat to her personal life and career when she magically transforms into a 13-year-old version of herself right before a do-or-die presentation. Jordan will now need to rely on April more than ever – if April is willing to stop treating Jordan like a 13-year-old child who has an attitude problem. Stars Regina Hall, Issa Rae, and Justin Hartley. Rated PG-13 – fantasy, comedy.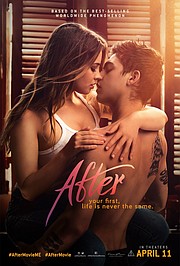 (NEW) AFTER – Tessa Young is a dedicated student, dutiful daughter and loyal girlfriend to her high school sweetheart. Entering her first semester of college, Tessa's guarded world opens up when she meets Hardin Scott, a mysterious and brooding rebel who makes her question all she thought she knew about herself – and what she wants out of life. Stars Hero Fiennes-Tiffin, Josephine Langford, and Pia Mia. Rated PG-13 – drama, thriller.
(NEW) MIA AND THE WHITE LION – Young Mia's life gets turned upside down when her family decides to leave London to manage a lion farm in South Africa. When a beautiful white lion named Charlie is born, the 10-year-old finds happiness once again as she develops a special bond with the growing cub. When Mia uncovers a secret that puts Charlie in danger, she sets out on an incredible journey across the wild plains to find a sanctuary for her beloved friend. Stars Daniah De Villiers, Melanie Laurent, and Tessa Jubber. Rated PG – drama, adventure.
Also showing:
SHAZAM! – We all have a superhero inside of us – it just takes a bit of magic to bring it out. In 14-year-old Billy Batson's case, all he needs to do is shout out one word to transform into the adult superhero Shazam. Still a kid at heart, Shazam revels in the new version of himself by doing what any other teen would do – have fun while testing out his newfound powers. But he'll need to master them quickly before the evil Dr. Thaddeus Sivana can get his hands on Shazam's magical abilities. Stars Zachary Levi, Mark Strong, Asher Angel, Jack Dylan Grazer, Djimon Hounsou. PG-13 – science fiction, fantasy.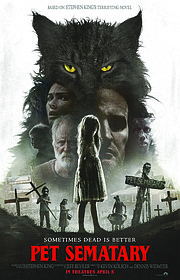 PET SEMATARY – Dr. Louis Creed and his wife, Rachel, relocate from Boston to rural Maine with their two young children. The couple soon discover a mysterious burial ground hidden deep in the woods near their new home. When tragedy strikes, Louis turns to his neighbor Jud Crandall, setting off a perilous chain reaction that unleashes an unspeakable evil with horrific consequences. Stars Jason Clarke, Amy Seimetz, John Lithgow. R – thriller, horror.
DUMBO – Struggling circus owner Max Medici enlists a former star and his two children to care for Dumbo, a baby elephant born with oversized ears. When the family discovers that the animal can fly, it soon becomes the main attraction – bringing in huge audiences and revitalizing the run-down circus. The elephant's magical ability also draws the attention of V.A. Vandevere, an entrepreneur who wants to showcase Dumbo in his latest, larger-than-life entertainment venture. Stars Colin Farrell, Michael Keaton, Danny DeVito, Eva Green, Alan Arkin. PG – fantasy, adventure.
US – Accompanied by her husband, son and daughter, Adelaide Wilson returns to the beachfront home where she grew up as a child. Haunted by a traumatic experience from the past, Adelaide grows increasingly concerned that something bad is going to happen. Her worst fears soon become a reality when four masked strangers descend upon the house, forcing the Wilsons into a fight for survival. When the masks come off, the family is horrified to learn that each attacker takes the appearance of one of them. Stars Lupita Nyong'o, Winston Duke, Elisabeth Moss, Tim Heidecker. R – mystery, thriller.
CAPTAIN MARVEL – Captain Marvel gets caught in the middle of a galactic war between two alien races. Stars Brie Larson, Samuel L. Jackson, Ben Mendelsohn, Djimon Hounsou, Lee Pace, Lashana Lynch, Gemma Chan, Annette Benning, Clark Gregg, Jude Law. PG-13 – fantasy, science fiction.
THE BEST OF ENEMIES – The true story of the unlikely relationship between Ann Atwater, an outspoken civil rights activist, and C.P. Ellis, a local Ku Klux Klan leader. During the racially charged summer of 1971, Atwater and Ellis come together to co-chair a community summit on the desegregation of schools in Durham, N.C. The ensuing debate and battle soon lead to surprising revelations that change both of their lives forever. Stars Taraji P. Henson, Sam Rockwell. PG-13 – drama, history.
UNPLANNED – Abby Johnson becomes the youngest clinic director in the history of Planned Parenthood, then a life-changing experience turns her into an anti-abortion activist. Stars Ashley Bratcher, Brooks Ryan, Robia Scott, Jared Lotz, Emma Elle Roberts. R – drama.
HOTEL MUMBAI – Terror strikes in the heart of Mumbai, India, as members of Lashkar-e-Taiba storm the Taj Mahal Palace Hotel in a series of coordinated attacks throughout the city. Amid the gunfire and mayhem, a brave chef and kitchen worker decide to risk their own lives to try and protect the frightened guests. As the militants continue their assault on the hotel, a desperate couple must do whatever they can to protect their newborn baby. Stars Dev Patel, Armie Hammer, Nazanin Bonaidi, Tilda Cobham-Hervey, Anupam Kher, Jason Isaccs. R – drama, thriller.
THE PUBLIC – An act of civil disobedience turns into a standoff with police when homeless people in Cincinnati take over the public library to seek shelter from the bitter cold. Stars Alec Baldwin, Emilio Estevez, Jena Malone, Taylor Schilling, Christian Slater, Che "Rhymefest" Smith, Gabrielle Union, Jacob Vargas, Michael K. Williams, Jeffrey Wright. PG-13 – drama.
THE MUSTANG – A violent convict is given the chance to participate in a rehabilitation therapy program centered around the training of wild mustangs. Stars Matthias Schoenaerts, Jason Mitchell, Gideon Adlon, Connie Britton, Bruce Dern. R – drama.
SUBMIT FEEDBACK
Click Below to:
More like this story