Chalk It Up! event in downtown Prescott April 13-14

Originally Published: April 11, 2019 11:05 p.m.
All it takes is some chalk and a little bit of imagination to create unique chalk art this weekend at the 11th annual Chalk It Up! event.
While it's going to be the same event that everyone has come to know and love, more people are expected to attend than ever before, said Diana Dalsass, a member of the Chalk It Up! Planning Committee. Last year there were about 5,000 attendees, she said.
"I imagine that this year it'll be closer to 6,000," she said. "Maybe even more."
Additionally, West Yavapai Guidance Clinic, the organization managing the event, has a program called Respite in which kids in foster care are taken on an outing of some kind in order to give their foster parents a break, Dalsass said. This year, the kids are going to Chalk It Up! and will be given one-foot by one-foot tiles that will be sprayed afterward so they can take them home.
Held from 10 a.m. to 4 p.m. Saturday and Sunday, April 13-14, in the parking lot of the National Bank of Arizona, 201 N. Montezuma St., Dalsass said she's never seen anybody not have fun at Chalk It Up!, either from creating the art or walking around enjoying the live entertainment and looking at all of the creations.
"It's just beautiful to see, especially the guest artists, the amazing things they can do," she said. "Even some of the young kids, you'd be surprised at what, say, a 10-year-old or a 12-year-old can do."
This year's guest artists are Ruben Arriaga from Monterrey, Mexico; Gloria Ing from Los Angeles; Gus Moran from Pomona, California; Jamie and Craig Rogers from Richland Center, Wisconsin; Randy Segura from Morrison, Colorado; Lauren Tuma from Queen Creek; and Holly Schineller from Tempe.
Entertainment includes performances by Salt of the Earth, New Moon School of Bellydance, the Rockin' Ukes, Tiger Zumba, and the Prescott Lindy Hoppers from Flying Nest Movement Arts Studio.
Admission to the event is free with donations going toward putting next year's event on as well as various West Yavapai Guidance Clinic programs, such as paying for the paramedics who are always on staff at the organization's Crisis Stabilization Unit or for the Senior Peer Program. The goal this year is $25,000, Dalsass said.
No preregistration is necessary and spaces are provided on a first-come, first-served basis. All aspiring artists are given a 12-piece box of pastel chalk.
For more information, visit www.prescottchalkart.com.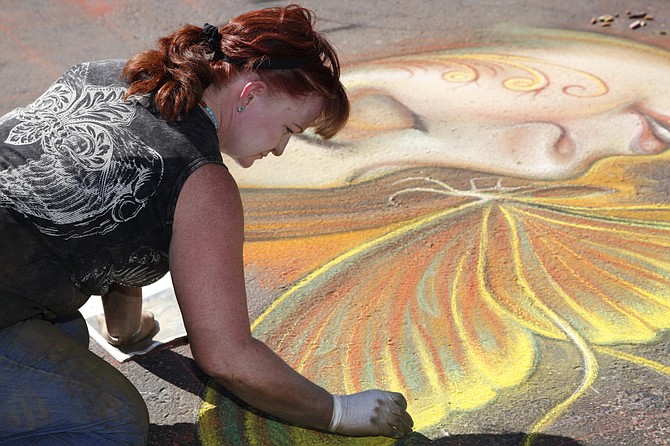 SUBMIT FEEDBACK
Click Below to:
More like this story