Friday Catchall: Meter the parking, put pride aside

Originally Published: April 11, 2019 10 p.m.
The Friday Catchall:
• METER THIS — You've likely heard that Ron Drake of "Flip this Town" has been here offering ways for Prescott to keep its downtown vital, even improve it. Click HERE for the full story, which published Thursday.
Aside from painting the Whiskey Row alley and increasing sidewalk sales, one item jumped out at me: increasing the two-hour parking limit on downtown streets, which would require council action.
This brought two thoughts to mind — one of how many two-hour parking signs exist in downtown (could break the bank to replace them all), but more so how the city should install parking meters.
Seriously. Fine, have varying time slots — short-term, two-hour, and three-hour parking. Still, there's something to be said for the customers who are willing to pay to play, err … park.
I would rather feed a meter than have to worry about when I have to dash back to move the car.
Someone told me that would be a step backward.
I don't think so.
In fact, if you can wave your cellphone at the grocery store register, why couldn't you monitor your parking meter — and pay from afar?
The parking industry has changed, folks.
• POLITICS & PRIDE — One side points to the report, the other side calls into question the motives, release of information, what has gone on behind closed doors, deadlines, etc.
It is as though no one wins in politics, and it comes down to pride — you're either with me or against me.
Of course, I am referring to the (Robert) Mueller report and the President Trump-Russia investigation.
Oh wait, the March 26 Save the Dells vote by the Prescott City Council, even the story and sidebars surrounding Rep. David Stringer's past and replacement, could apply here too.
There's no fake news here — just the Courier reporting on what's happening.
Watch for much more to come on the Dells debacle.
• OUR PALs — Prescott Area Leadership named its man, woman and youth(s) of the year at a banquet and awards ceremony Wednesday, April 10, at the Prescott Resort.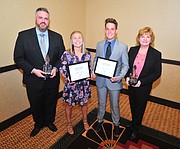 Congratulations to the following:
Female Youth of the Year — Addie Daniels
Male Youth of the Year — Ashton Burch
Woman of the Year — Robin Sobotta
Man of the Year — Jesse Burke
It is heartening to know we have such great people living and working in the Prescott area. Kudos, to all!
• QUOTE — "If your actions inspire others to dream more, learn more, do more and become more, you are a leader." — John Quincy Adams
• PICK OF THE WEEK — (Proving there's always something good to do in the Prescott area that's cheap or free): The Contemporary Native Arts Festival at the Smoki Museum in Prescott this weekend, April 13-14. It runs from 10 a.m. to 7 p.m. Hint: catch a shuttle from the Frontier Village Center, every 15 minutes between 9 a.m. and 6 p.m. both days.
Tim Wiederaenders is the senior news editor for The Daily Courier and Prescott News Network. Follow him on Twitter @TWieds_editor. Reach him at 928-445-3333, ext. 2032, or twieds@prescottaz.com.
More like this story
SUBMIT FEEDBACK
Click Below to: