Badgers batter Bears to sweep baseball series
Prep Baseball
By
Aaron Valdez
|
valaaron_94
Originally Published: April 11, 2019 11:34 p.m.
PRESCOTT — Bradshaw Mountain posed no threat to Prescott's crusade of winning the section title as the Badgers steamrolled their way to a 10-3 win while capping off their two-game series sweep of the Bears on Thursday.
As Prescott and Lee Williams continue to jockey for the top spot in the Grand Canyon region, the Badgers don't seem to be letting anything slow them down, even bitter rival Bradshaw Mountain.
"Of course we're focused on making it to playoffs and stuff but these rival games are always fun to play," Prescott left fielder Rhett Pearce said. "(Bradshaw Mountain is) a good team. They are always a challenge most times."
Despite struggling for a majority of the season, the Bears had won four of their last five games ahead of this week's series with the Badgers.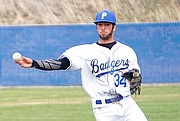 However, Prescott set the tone in first game on Tuesday when it rode a complete-game shutout performance from Ray Chairez en route to a 7-0 victory. The Bears would never recover from there as the Badgers' firepower in Thursday's game was just too much to overcome.
"Obviously, Bradshaw-Prescott is a rivalry, but we got things this year that we want to accomplish, and by winning today we move one step closer and we got one on Saturday, so hopefully we get it done in that one too," Prescott head coach Kent Winslow said.
Ace pitcher Jake Schulz started on the mound for Prescott and comfortably retired the side in the first three innings to give the Badgers' bats a chance to put the game away early. Fittingly, Schulz opened the scoring when he reached home after Chairez sacrificed to center field in the second inning.
Prescott's pitching duo wasn't finished yet as Schulz smacked a ground rule double in the third frame to bring in Luke Fredrick while Chairez followed that up with a double of his own to plate Schulz and Slater Krupnick. Chairez went on to finish the game going 1 for 3 at the dish with three RBIs, while Schulz went 2 for 4 with one RBI.
After Prescott ballooned its lead heading into the fourth, Bradshaw Mountain managed to get on the board when Paxton Prentice hit a sacrifice chopper to first to bring in Josh Grant, who had just crushed a triple prior.
Fortunately for the Badgers, they responded immediately as a string of singles from Ethan Peña, Jacob Police, Krupnick and Fredrick tallied one run before Schulz and Korey Schwartz each hit an RBI single to make it an 8-1 game.
In the top of the sixth, fatigue started to take its toll on Schulz as he worked himself into several jams, prompting Winslow to replace him with Fredrick. The Bears made some minor noise in the final two innings by picking up two runs, but Fredrick did well to limit the damage and help give the Badgers a 10-3 victory.
"Luke's been in that spot a bunch for us and usually he comes after Ray, but he didn't throw on Tuesday so he was going to be the first guy out," Winslow said on his decision to go with Fredrick. "He has really good stuff. He usually stays around the zone but I didn't think he was as sharp today … but he pitched effectively and he's a battler and is always ready to go."
Despite the successful season thus far, the Badgers still remain neck-and-neck with Lee Williams in the title race as both teams own 8-1 section records.
"It's definitely a weird feeling, we've all talked about that before but we have a strong enough team not to fall behind and I think it's going to be a close race for region," Pearce said.
UP NEXT
Due up for Prescott is an away game against third-place Flagstaff (8-6, 4-5 Grand Canyon) on Saturday at 12 p.m.
Bradshaw Mountain (6-8, 3-7 Grand Canyon) will hit the road as well to take on fourth-place Coconino (6-8, 3-5 Grand Canyon) at noon Saturday.
Aaron Valdez is a sports reporter for The Daily Courier of Prescott News Network. Follow him on Twitter at @Valaaron_94. Email avaldez@prescottaz.com or call 928-445-3333, ext. 2031.
SUBMIT FEEDBACK
Click Below to:
More like this story