Goals set to make Downtown Prescott more attractive
'Flip this Town'-inspired initiative sets goals aimed at visitors and locals

By
Cindy Barks
|
Cindy_Barks
Originally Published: April 10, 2019 9:50 p.m.
The Whiskey Row alley could flourish, downtown businesses could occasionally stay open later, and parking-limit times could increase.
Those steps and many more are among the short-term goals of a steering committee that will be shepherding the recommendations of downtown-revitalization consultant Ron Drake of "Flip this Town."
Steering committee representatives made a presentation Tuesday, April 9, to the Prescott City Council on the report that Drake released this past week, summing up his findings and recommendations for Prescott.
Drake spent about 3½ days in Prescott in late January, touring the downtown, talking with business owners, and meeting with the public to come up with ways to preserve, improve, and enhance Prescott's downtown.
Darla DeVille, community affairs manager of northwest communications for Arizona Public Service (APS) and a member of the steering committee, told the council that Drake was brought in by the four co-sponsors to be a "set of eyes" – to "take a look at this beautiful town of ours and see how we can do things, perhaps, better."
SHORT-TERM GOALS
From Drake's 12-page report, the committee came up with three lists – short-term (one to six months), medium-term (six to 18 months), and long-term (18 months to three years) goals.
The 16 short-term goals include:
• Painting the Whiskey Row alley, and having a once-a-month "alley day."
• Conducting summer sidewalk sales that are open later, as well as encouraging more outdoor seating at downtown restaurants.
• Increasing the two-hour parking limit on downtown streets.
• Conducting a history hunt, a Taste of Prescott, and a Halfway to Acker/Christmas City event.
While some of the actions would require collaborations with businesses, others would require action by the City of Prescott.
After the meeting, Mayor Greg Mengarelli said he expects the steering committee will follow up by bringing specific actions back to the City Council.
A change to allow longer parking times on downtown streets, for instance, would require an action by the City Council.
Mengarelli said any such changes would go through the city's normal review process. "I'm open for new ideas," he said of the city-related suggestions.
Prescott Community Outreach Manager John Heiney, who serves on the steering committee, said he expects the group to meet about once a month to discuss how to proceed with the various goals.
MEDIUM-TERM GOALS
Over the next six months to year and a half, the steering committee will be focusing on projects that require more preparation.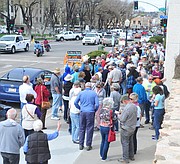 Among the group's medium-term goals:
• Attracting more diverse dining options, launching a restaurant week concept, as well as a "Love Your Locals" event.
• Engaging students downtown, and conducting a young people summit.
• Improving trails and connectivity, and exploring rental scooters/bikes.
• Branding the entertainment district, and creating a strategic plan for the entertainment district.
LONG-TERM GOALS
Among Drake's major goals was attraction of more residential uses to downtown.
The steering committee's long-term goals address that suggestion in a number of ways.
Included in the long-term goals:
• Downtown loft housing, use of empty buildings, and workforce development and housing.
• Making downtown more pedestrian-friendly, along with a review/update of traffic laws, and design "for people, not cars."
• Attraction of a family-friendly activity center.
• Connection of trails and bike trails/lanes with the downtown.
The push for a more pedestrian-friendly downtown was also emphasized by a member of the public who spoke at the meeting.
Resident Edward Bowe suggested that the city close Gurley Street in front of the courthouse to parking – especially during the summer months.
Temporary ramps could be installed to extend the sidewalk, Bowe said, which would allow more space for outdoor seating.
That move, along with offering small shuttles to get people from more-distant parking areas to the downtown business area, "Would make the city a lot more attractive," Bowe said.
The Tuesday presentation occurred during a City Council study session, and no votes occurred.
The four sponsors of the Ron Drake analysis included the City of Prescott, the Prescott Chamber of Commerce, APS, and the Prescott Downtown Partnership.
The steering committee members include: Sheri Heiney, Prescott Chamber; Margo Christensen, Ponderosa Hotels, Chamber Board; Darla DeVille, APS, PDP Board and Chamber Foundation Board; Kendall Jaspers, PDP; Sheri Shaw, Back Alley Wine Bar, PDP Board Chair; Skyler Reeves, Barley Hound, PDP Board; Audra Yamamoto, Granite Mountain Brewing Company, PDP Board; Jenn Herbert, Superstition Meadery, PDP Board; John Heiney, City of Prescott; Ann Steward, City of Prescott; Wendy Bridges, City of Prescott.
SUBMIT FEEDBACK
Click Below to:
More like this story