Gov. Ducey signs bill to allow licensed professionals to practice in Arizona without review

Originally Published: April 10, 2019 8:11 p.m.
Updated as of Wednesday, April 10, 2019 10:31 PM
PHOENIX — Gov. Doug Ducey signed legislation Wednesday that will pretty much allow anyone with any professional license to practice in Arizona without further state review.
But the governor insisted this is different than his decision to allow Uber to test its driverless cars on Arizona roads, halted after one of them hit and killed a pedestrian.
And he said it's not the same as another bill he signed allowing Theranos to sell its novel blood tests to Arizona residents, tests that were subsequently found to be inaccurate.
"It's apples and oranges,'' Ducey said.
If nothing else, he said there needs to be some proof that the qualifications of someone with a medical license from another state must meet Arizona's minimum standards.
And as to other professions, like architects and engineers? Ducey dismissed the concerns as irrelevant.
"I think you are taking hypothetical examples in terms of the obstacles that are in front of people that are moving to Arizona and can't find work,'' the governor said.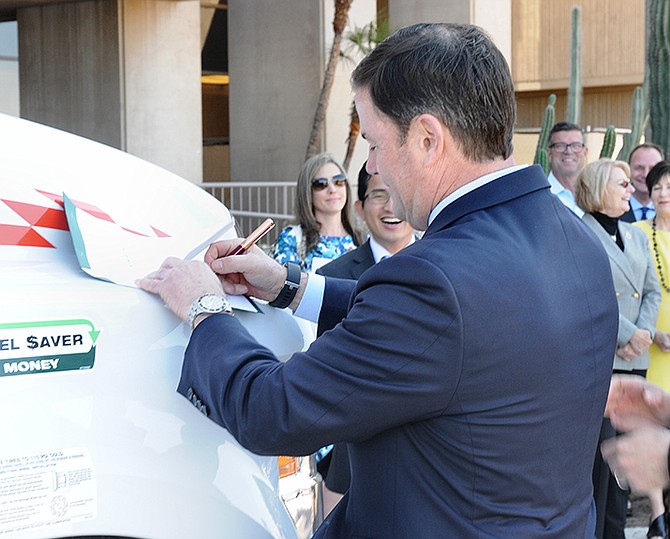 He also brushed aside a question of whether allowing anyone with any license from any other state to practice in Arizona will be bad for those already here, potentially driving down wages as there are more people offering the same services.
"Not only is our GDP growing but so are our wages,'' Ducey said. "We have more jobs available than people to fill them.''
Left unsaid is that the state's jobless rate is about a full point higher than the national figure.
For Ducey and supporters, the argument is that there is no need for Arizona to require new residents to prove to regulators here they can do their jobs.
"We know that whether you make your living as a plumber, a barber, a nurse or anything else, you don't lose your skills simply because you pack up a U-Haul truck and make the decision to move to Arizona,'' he said.
Some states, including Arizona, already have reciprocity agreements for certain professions: Arizona will honor another state's licensing if that state does the same for those with Arizona licenses. But this is believed to be the first situation in the nation where a state has unilaterally agreed to allow those licensed in other states to practice here, with no requirement for like treatment of Arizonans.
Critics have argued this move will mean that Arizona has to accept whatever other states believe is acceptable to get licensed there, a move they said will effectively make the standards in Arizona the lowest in the nation.
Ducey has been at the forefront of deregulatory efforts.
In 2015 he inked his approval to legislation to make it easier for companies to market blood-test services to Arizona consumers.
That law, sought by Theranos, removed all the limits on the kinds of blood, urine and other tests that patients can order themselves. In a ceremony at the company's Scottsdale offices, the governor said he was "proud to sign'' legislation for "reducing burdensome barriers and red tape.''
More like this story
SUBMIT FEEDBACK
Click Below to: