Chino Valley Chamber rounds up food trucks
A fun way to bring a variety of foods, chamber director says

Originally Published: April 9, 2019 3:41 p.m.
The food trucks will be rolling into town this weekend as the Chino Valley Area Chamber of Commerce and Prescott Night Out put on the Food Truck Roundup Two.
Lorette Brashear, director for the Chino Valley Area Chamber of Commerce, said she got the idea to do one in Chino Valley after the first roundup in Prescott proved to be a hit.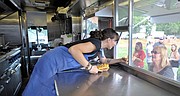 "It was so successful they ran out of food," Brashear said.
Not only will it be a fun thing for the community, but it will also be a great way for everyone to get together and try a lot of varying foods from all of the participating food trucks, she said. Food trucks include Nacho's Papa, Merkin Vineyards' food truck, Montana BBQ, and Ay Mi Munchies, and more.
The roundup will happen Saturday, April 13, at the Chino Valley Area Chamber of Commerce and is free to attend, though people will have to pay for whatever food they want. No matter what anyone's out doing that day, whether they are running errands or looking for something different to do, it's going to be a fun day, Brashear said.
"We are limited to certain restaurants in this area," she said, calling it a "fun way to just bring a different variety of foods … that are not normally around here."
The event starts at 11 a.m. and runs until either 3 p.m. or until the food runs out.
There also will be outside vendors and live entertainment in addition to the food trucks, she said. The goal is to make a big enough success that not only does it become an ongoing thing, but a sort of summer event that happens once a month and make it grow into an event that has a flea market sort of vibe to it.
The Chino Valley Area Chamber of Commerce is located at 175 E. Road 2 South. For more information, call 928-636-2493.
More like this story
SUBMIT FEEDBACK
Click Below to: