One Man's Rant: There's a man at the library you should know

Originally Published: April 8, 2019 6:47 p.m.
The title of this column was misleading as soon as I wrote it. I suspect that most folks already know Scott Bruner, director of the Chino Valley Library. After all, he's been heading up the place since 1999.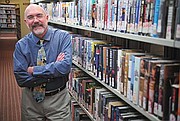 His entry into the profession of library science was as fortuitous as it was unexpected. He left Iowa in 1983 armed with a degree in art history from the University of Northern Iowa, the resolve to find a more promising profession to support his family when children came and his trusty 1966 Chevy. Never having been in Arizona, he decided that locating near Arizona State University might be a place to stop. He found a job in a Mesa print shop where he assisted customers with printing and design work.

He was surprised one day when he received a letter in the mail from the Mesa library inviting him to interview for a part-time position there. Unbeknownst to Scott, his wife had mailed in his resume and application. At the last minute, he decided to show up for the interview and despite the fact that 32 other aspirants also showed up, he was hired.

This paragraph begins just like the previous one. One day he received a letter in the mail. But this time, it was from the University of Arizona Graduate School indicating that he should take the Graduate Record Exam (GRE) to supplement his application for earning a Masters of Library Science degree. He was surprised to learn that his wife had sent in his application and credentials to the University of Arizona. Deja vu all over again. His wife already knew what Scott came to know over the years — that he was happiest serving people by serving them in a library.
Upon graduating from the U of A, Stuart Mattson, Prescott Valley library director, offered him a job where he worked five years until the Chino Valley Library opportunity came along. He claims he applied for the job himself, before his wife had a chance to act. He faced competition from a dozen other applicants, but again prevailed, to become the director of the Chino Valley Library some 20 years ago.
He accepted the position without having visited the library first. On his first day, he found a half-dozen chickens flocking at the front door and the single-room interior filled to overflowing with stacks of books and shelves sagging with hundreds of more books that had been donated.

Scott says it wasn't unusual during those early years to find horses tied up out front with saddlebags filled with library books. Complementing the rural flavor of the town, he has always welcomed owners who wanted to bring pets inside, dogs mostly. If neither the owner nor dog snarled at other patrons, all was well.

He also says that each Library Director (there have been six since the library opened in 1983) made significant contributions to the success of the library, which today serves 5,500 residents each month. Scott has been the longest-serving director and, in 2015, was recognized as the Librarian of the Year by the Arizona Library Association. That's a high honor considering there are 90 public library systems in the state with a total of 233 branches.

The final fact I'll report today is that despite diligently researching photos of Scott over the years, he didn't have hair in any of them.
To comment on this column, email wilaugust46@gmail.com.
More like this story
SUBMIT FEEDBACK
Click Below to:
This Week's Circulars
To view money-saving ads...