'Flip this Town' analysis offers roadmap forward for downtown Prescott
Longer parking, outdoor dining, event-centered alleys are among the ideas

By
Cindy Barks
|
Cindy_Barks
Originally Published: April 7, 2019 8:04 p.m.
Is Prescott sending out a not-so-subtle message that visitors are welcome, but only for a short time?
Ron Drake, the "Flip this Town" consultant who spent three days in Prescott in late January, thinks so.
In a written report that came out this past week, Drake listed a host of Prescott quirks that he said lend to an air of complacency and a lack of progressiveness.
He says there are a few moves – the "low-hanging fruit" – that the city could do almost immediately to help move beyond the stagnation.
Among them is a change in the city's long-standing two-hour parking on many of its main downtown streets.
The two-hour-parking signs that are everywhere in the downtown send a message of "Welcome to Prescott, but only stay two hours," Drake said.
He suggests that the spaces around the courthouse plaza should have a four-hour limit, and those in front of businesses, a three-hour limit.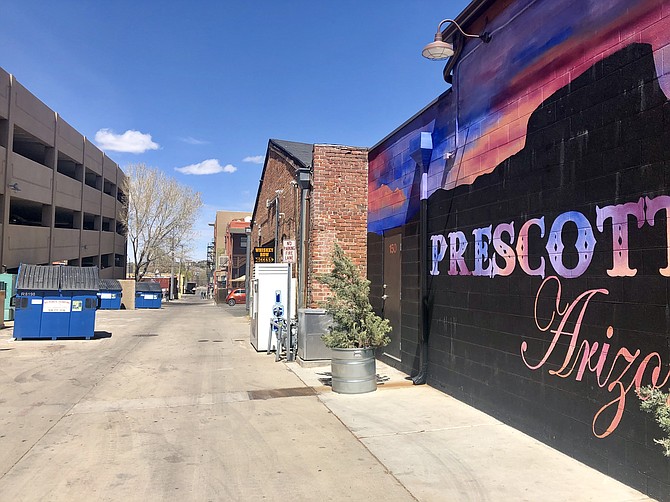 ROADMAP TO GET THERE
That, and a host of other suggestions will be up for discussion at 2 p.m. Tuesday, April 9, during the Prescott City Council's study session at Prescott City Hall, 201 S. Cortez St.
The meeting agenda notes that representatives of the steering committee that worked with Drake would be on hand to present the findings of the 12-page analysis, plus initial goals and a timeline for advancing the ideas.
Prescott Community Outreach Manager John Heiney said the parking limit likely would be among the points that the council will consider.
Drake's "roadmap" for improving Prescott suggests that the community go after other easily achieved moves as well, such as encouraging more sidewalk dining, and putting the Whiskey Row alley to better use.
During his January community meeting, Drake expressed surprise that downtown Prescott didn't already have more outdoor dining space.
Prescott Planning Manager George Worley said Friday that sidewalk tables and chairs are allowed by the city code, as long a 48-inch-wide section of sidewalk remains clear.
That is easier to achieve on some downtown streets than others, Worley said. Cortez Street, for instance, has space for outdoor tables, such as those provided at Bill's Pizza.
Whiskey Row would be a bit more difficult, Worley said, "but they could still do it." In addition, he said, "Many businesses have enough space behind them in the alley" for outdoor seating.
Heiney pointed out that a number of businesses are already using the alley that runs behind Whiskey Row as their main entrances, or for back seating.
Drake suggested going even further by closing down the alley at times to allow for event space.
"Don't feel like you must make the alley perfect for it to work," he wrote in the analysis. "A broom, little bit of paint on the dumpster and electrical stations, then adding string lights will turn the alley into an event center."
'PATH TO COMPLACENCY'
Even though he stressed throughout the report that Prescott has great potential, Drake concluded his analysis by noting, "Prescott appears to be on a path of complacency, rather than being intentional about taking the road to vibrancy."
For example, Drake said some residents in the community seem resistant to change, and they let him know about it on social media.
"People are wonderful in this community yet you need a consistent message that Prescott can be a small town that's progressive," he wrote. "I have been attacked on social media more than I can remember for working in Prescott."
He chalked up the social media negativity to "symptoms of fear of change."
Among Drake's other ideas for improvement were:
• More affordable housing in the downtown.
• More engagement by businesses on social media, such as in Yelp and Facebook reviews.
• Making the downtown more pedestrian- and bike-friendly – perhaps through traffic calming achieved by shrinking the streets and adding bike lanes.
• Streamlining the city's building permit process.
'ATTAINABLE GOALS'
Drake's time in Prescott was co-sponsored by the city, the Prescott Chamber of Commerce, the Prescott Downtown Partnership, and Arizona Public Service (APS).
The four entities released a news release this past week that summarized Drake's analysis and reflected on the path forward.
"There are many attainable goals in the report," Sheri Heiney, President of the Prescott Chamber of Commerce, said in the news release. "We have a great committee, but we will need the help of many others to move forward."
Darla DeVille, community affairs manager of northwest communications for APS, added, "The steering committee is so thankful for all of the support and feedback from the community. Now we will get to work, and we will be asking for more help, and ideas as we seek to enhance and improve our already amazing town of Prescott."
Follow Cindy Barks on Twitter @Cindy_Barks. Reach her at 928-445-3333, ext. 2034, or cbarks@prescottaz.com.
More like this story
SUBMIT FEEDBACK
Click Below to: