Roughriders enjoy home sweep of doubleheader
Junior College Baseball
By
Doug Cook
|
dougout_dc
Originally Published: April 6, 2019 11:47 p.m.
PRESCOTT — After spending nearly the first two months of the 2019 season on the road because of field-improvement work at Roughrider Park, Yavapai College's baseball team is at last reaping the benefits of playing at home.
On Saturday, April 6, under mostly cloudy skies and 60-degree temperatures, the Roughriders extended their ACCAC-best winning streak to 14 games with a convincing doubleheader sweep of NJCAA Division I No. 7-ranked Cochise College.
Thanks to Yavapai's 8-2 and 10-3 victories, the Roughriders are tied with the Apaches near the top of the ACCAC standings with identical 18-8 records. Arizona Western College holds a narrow lead in the conference at 19-7.
"It could've been a pretty tough situation [being away from home for so long] if it wasn't for such a good team," said Roughriders coach Ryan Cougill, whose Yavapai squad had gone without a home field for seven months total dating back to 2018 and at one point hadn't practiced for three weeks.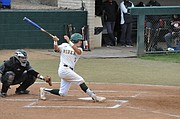 "It's a good group of guys. Those players deserve more credit than what they're getting. That's not to knock anybody, but everyone assumes it's a regular old season, and it's not."
The Roughriders will play 10 of their last 12 regular-season contests at home, which should give them the advantage in the race to win the ACCAC and garner the top seed into the NJCAA Region 1, Division I tournament that starts May 2.
The region winner advances to the NJCAA's district round with the opportunity to qualify for the Junior College World Series May 25-31 and June 1 in Grand Junction, Colorado.
GAME 1
In Saturday's Game 1, Yavapai right fielder Nick Adams' three-run homer capped a five-run fifth inning, which propelled the hosts to an 8-2 victory.
However, starting pitcher Matt Novis stole the show, tossing a complete game. Novis allowed two runs on four hits, striking out five and walking one in seven innings.
Jack Silverman (1 for 3, two RBIs, run scored), Tommy Sacco (1 for 2, two runs scored), leadoff man Channy Ortiz (1 for 3, RBI, run scored) and Tyler Boggs (1 for 2, run scored) aided in the effort.
Cochise coach Todd Inglehart said his team has struggled to score runs on the road, and it showed at Yavapai.
"We've survived, until now," he added. "The last three series we've done a good job of splitting and getting out of here. We're a totally different team at home."
GAME 2
In the second game, the Roughriders again came out firing, buoyed by second baseman Sacco's two-run homer in the first inning and pitcher Dom Hamel's strong start.
"It's a big task that we've accomplished, but there's still more to go," said Sacco of the Roughriders, who started the season with a 14-10 record. "Fourteen straight [wins] feels pretty good. We've really turned it around, and it's been fun."
Hamel surrendered only one run on four hits in six innings of work, striking out four and walking two. Relievers Bobby Meza, Riley Egloff and Marcus Christy finished off Cochise.
"I was feeling like it was a fastball kind of day," Hamel said. "I was trying my best to get ahead with that, and then finish off-speed if I had to. I was trying to stay consistent and just keep attacking fastballs and let my D do the work."
At the dish, Sacco paced the Roughriders, going 3 for 3 with four RBIs, a run scored and two walks. First baseman Christian Encarnacion-Strand (2 for 2, double, two runs scored, three walks), Ortiz (double, two runs scored), Silverman (3 for 5, RBI single, two runs scored), Cody Holtz (2 for 4, two RBI singles) and Will Long (double, run scored) followed.
"It's exciting," Encarnacion-Strand said of the sweep. "They're a really good team and we just played our game and it showed [Saturday]. We're happy about it, so we've just got to keep grinding and hopefully keep going."
Yavapai chased starter Tyson Coleman from the second game after two innings. The Apaches used four more pitchers in relief.
"A lot of our pitchers weren't spotting up real well [Saturday] – losing command of the fastball, which led to more hits for Yavapai," Cochise outfielder Torren Brozovich said.
UP NEXT
Yavapai (28-10) hosts Arizona Western for another important ACCAC doubleheader with first place hanging in the balance at noon and 2:30 p.m. Tuesday, April 9, at Roughrider Park.
Cochise (34-9) welcomes South Mountain Community College (17-9 ACCAC) to its campus field in Douglas for an ACCAC twin bill at noon and 2:30 p.m. April 9.
Doug Cook is a sports reporter for The Daily Courier. Follow him on Twitter at @dougout_dc. Email him at dcook@prescottaz.com or call 928-445-3333, ext. 2039.
More like this story
SUBMIT FEEDBACK
Click Below to: