Prescott Valley loses friend, historian Jean Cross
September 19, 1924 — April 1, 2019

Originally Published: April 6, 2019 9:01 p.m.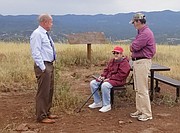 A friendship started 30 years ago in Prescott Valley ended April 1 when Jean Cross, longtime resident, historian, teacher, artist and author died at age 94.
The friend, Darcy Morger-Grovenstein, said Cross also had an interest in archeology and was involved in almost every major excavation in the area, including the archeological site at Embry-Riddle Aeronautical University and the discovery of a woolly mammoth bone in Prescott Valley in 1984.
"She worked on the mammoth excavation right around the Agua Fria off Long Mesa Drive," Morger-Groventstein said Friday, April 5. "We went out there not all that long ago — 10 years ago when she wrote the "History of Prescott Valley" — we walked the wash, and she showed me — of course more things have washed away — where they dug and where they discovered the bones."
Jean M. Cross was born on Sept. 19, 1924, in Cortland, New York, where she earned a Bachelor's Degree in Education from Cortland State University of New York in 1946. She subsequently earned two master's degrees, one in Fine Arts from Catholic University in Washington, D.C., in 1959, and a Master of Arts in Education from Manhattan College, Riverdale, New York, in 1965. In 1980, she retired from teaching and relocated to Diamond Valley.
ARTIST, SINGER
Morger-Grovenstein said not many people knew Cross was an artist; she donated three 4-foot wood panel carvings to the Cortland State University chapel. She also sang in the Sacred Heart and St. Germaine church choirs. Even at 94, Cross could still sing "with just a little warble," Morger-Grovenstein said. "She had such a strong, beautiful first soprano voice."
"I could have gone on and on and on," Morger-Grovenstein said about the obituary she wrote describing her good pal. "I just mentioned the main things. She helped in establishing the original route of the Black Canyon Trail down by Mayer. It was her desire or dream to see a trail go up Glassford Hill. We hiked it 28 years ago; she took us to the top several times."
HISTORIC PROJECTS
On Cross' 94th birthday this past September, Larry Tarkowski, Prescott Valley town manager, and Glenn Grovenstein, Darcy's husband, drove Cross by way of the Summit Trail to the top of Glassford Hill where she educated them on heliographs.
Tarkowski said Cross gave a great deal of her time and energy to the historical society, and was very involved in researching the early days of the town. She was a fixture in the community, he added.
"Ever since we started the construction on the (Summit) trail to the top, she let it be known she was unable to walk up there, and really wanted to see the growth of the town from that high elevation," he said. "She was in awe."
Cross and another friend, the late Jerry Munderloh, created the Mining Exhibit and Trail for the Visually Impaired at Fain Park.
"Can you imagine, two elderly people — Jean in her 80s and Jerry in his late 70s — working on that mining exhibit? They cleaned it up, drilled the signs; the Key Club from the high school helped line the trail with rocks and cleared brush," Morger-Grovenstein said. "They worked on that together for probably five years, maybe longer."
AUTHOR, AWARDS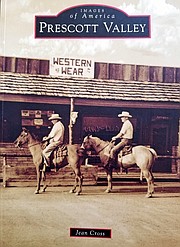 For this and other endeavors, the Prescott Valley Chamber of Commerce honored Cross with the Community Improvement Award in 2002 and the Heritage Award in 2007 and 2008 for her dedication to the area's heritage preservation.
For several years, Cross wrote articles on Prescott Valley's history for the Prescott Valley Tribune. Former Tribune editor and reporter Cheryl Hartz acknowledged that she didn't know Cross well, "but I know she knew more about Prescott Valley than anyone."
Much of Cross' research evolved into her book, "Prescott Valley, Images of America," published in 2009 as part of the Arcadia Press series.

"She had her hand on just about anything of historic nature in Prescott Valley and many things in Prescott itself," Morger-Grovenstein said, adding that Cross volunteered for 25 years at the Sharlot Hall Museum. "No living person today knows as much about the history of the town as Jean did."
Cross was one of the funding members of the Prescott Valley Historical Society, said Darlene Packard, current president.
"We are saddened at the loss of another one of our early people, one of our community leaders," Packard said. "She was a valuable member of the historical society."
LIFELONG LEARNER
Morger-Grovenstein said Cross never stopped learning or wanting to embrace a project to help make the town a better place. "She would say, 'Come on, I'm ready. I'm ready for my next adventure.'"
Cross was one of the oldest members of the St. Germaine's Catholic Church and was on the original building committee.
A Celebration of Life Mass will be held at the church, 7997 E. Dana Drive, Prescott Valley, at 10:30 a.m. Tuesday, April 9, followed by a luncheon.
SUBMIT FEEDBACK
Click Below to:
More like this story