'Common sense' describes 2018 building code
Municipalities on board to adopt guidelines this year

Originally Published: April 6, 2019 7:05 p.m.
Updated as of Sunday, April 7, 2019 12:01 AM
Construction companies, developers and homebuyers in the Quad Cities and throughout Yavapai County are looking forward to all jurisdictions adopting the 2018 International Code Council (ICC) Building and Technical Codes.
The code, still under consideration for most entities, provides a level of "common sense" that actually reduces the cost of construction, said David C. Williams, director Development Services for Yavapai County.
"It's the first code cycle in my career of almost 20 years where it has put this level of common sense back into the code," Williams said.
One of the changes involves the seismic zone in this area. Williams said the prior code had requirements for building as if the home were on top of the San Andreas Fault Line in California. "The new code puts it where it's appropriate for our area," he said.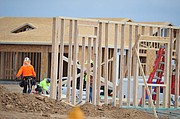 Another change simplifies the sheer wall bracing requirements, and provides prescriptive measures. The 2018 code makes life a lot easier, Williams added.
Yavapai County is in the process of reviewing the code and about three-quarters of the way through. Williams said he anticipates formal hearings in May, then action on adopting the code in July.
In Prescott Valley, a Building Board of Appeals (BBA) workshop will take place Wednesday, April 10, with expected approval by the BBA at the April 24 meeting, said Warren Colvin, building inspector for the town. Adopting the code will need council approval; no date has been set.
"We hope to be enforcing the 2018 Codes in October of 2019," Colvin said, adding that the advantage of all entities using the same code is to provide more consistency in Yavapai County and to be more user-friendly to the contractors who build in the Quad Cities.
In Prescott, Community Development Director Bryn Stotler covers areas such as planning and zoning, building plan review and inspections, and historic preservation. She, too, thinks the general public will benefit.
Stotler said those who are building, remodeling, developing, or looking to own within a development will benefit from more concise timeframes attached to plan review and permit issuance in each municipality.
"The fact that all jurisdictions are participating means that building and design professionals will not have to customize their designs and plans to different Codes across multiple jurisdictions on the front end. This will shorten design time and permit review, benefitting the end user, the general public, who are either building themselves, or those purchasing a build."
All jurisdictions began collaborative meetings in November, with a goal to enact the 2018 Code by July. The Chief Building Officials of each jurisdiction attended separate meetings where they reviewed in great detail individual codes for residential, plumbing, mechanical, electrical, energy conservation, etc.
In addition, each jurisdiction hosted a "road show" where contractors and professionals such as architects and engineers could learn about the particular codes unique to a given location.
"Each road show has been well attended by local contractors and industry professionals," Stotler said, adding that each jurisdiction is conducting public hearings. She anticipates adoption by Prescott City Council to take place in late April or early May.
Some jurisdictions have customized codes, Stotler stated. Prescott has a unique snow load criteria that would be inapplicable in a lower-elevation jurisdiction, for example. Chino Valley may adopt an administrative code that applies a higher wind load standards.
"This is really great and has never happened before in our area," said Sandy Griffis, executive director for Yavapai County Contractors Association.
More like this story
SUBMIT FEEDBACK
Click Below to: