One month left to submit for Young Playwrights Festival

Originally Published: April 4, 2019 7:37 p.m.
Young playwrights ages 9 to 18 have about a month left to submit their 10-minute plays for Prescott Center for the Arts' annual Young Playwrights Festival.
The process, said Prescott Center for the Arts Executive Director Robyn Allen, is the students write a 10-minute play, submit it by the Friday, May 3 deadline and it gets read and scored by a panel of judges. Playwrights whose plays are selected will be invited to participate in a workshop later in the summer working with published playwrights and PCA volunteers and staff to take their scripts from paper to the stage.
There were more than 100 plays to look through last year, Allen said, noting that she always enjoys being one of the readers. The 10-minute plays have been becoming more and more popular in recent years as well with other festivals dedicated to them, she said.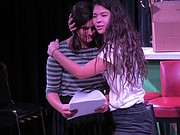 "That's what's exciting for us is not just when the kids submit it here, but when they go on and submit it to other festivals," Allen said. "They can really bring it to a national level."
A few years ago, Prescott Center for the Arts was able to do a big push and take some teaching artists ito the schools and work with the kids and teachers on playwriting, she said. The hope is to do that again and get the word out there more, Allen said.
For those young playwrights who might need some help getting started, the PCA's website has some tools on how to start, she said.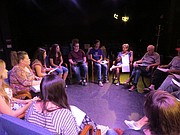 "It's always the hardest thing, staring at that blank piece of paper. We have some interesting techniques on how to get (the) creative energy going," Allen said, adding that a good piece of advice is to "start writing, put a thought down on paper."
The internet is also a good resource if you're stuck because you can find anything on there, she said.
Details on how to submit for the Young Playwrights Festival and those tips for new writers can be found on www.pca-az.net/ypf. The awards are $250 for first place, $150 for second place and $100 for third place. The performances will be in June.
For more information, call the Prescott Center for the Arts at 928-445-3286.
More like this story
SUBMIT FEEDBACK
Click Below to: