8-legged friends: Spider Pharm and pals visit Highlands Center

Originally Published: April 4, 2019 9:10 p.m.
Almost everyone who attended the March 26 presentation on harvesting spider venom at the Highlands Center for Natural History has a fascination for these eight-legged creatures.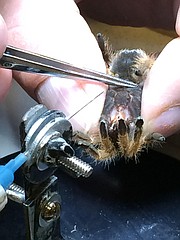 Obviously, Spider Pharm founder Chuck Kristensen and his wife, Anita, love the business of collecting and breeding spiders, and harvesting venom – they have about 50,000 spiders, centipedes and scorpions at their location in Yarnell.
Workshop attendee and former teacher, Pat Gulley, who kept a pet tarantula in her classroom for 18 years – it lived for 22 years – acknowledged that in some parts of the world there are reasons for people to be scared to death of spiders and snakes.
"Spiders are so fascinating. And they get such a bad rep," Gulley said. Later on, she allowed – invited, actually – a golden silk spider to walk upon her hand and arm, and remarked on its coloring and beauty. The spider, body and delicate legs, appeared to be four feet, um, maybe inches, wide.
Others attending the workshop included master gardeners, natural history buffs and Highlands Center volunteers, two interested in the business side of venom collection, spider fans and a veterinarian, about 15 people in all.
TOXIC CREATURES
Kristensen, obviously in love with his work, acted out the different ways spiders can attack their prey. He said he has been bitten about a thousand times. The black widow is the most toxic, he said, but produces less venom in its bite. Like the brown recluse, the black widow bite is not painful, although he noticed his muscles twitching above the bite site after several minutes.
Scientists purchase his venom to research treatments for diseases and to develop biopesticides. In fact, Kristensen related, after 10 years in the business, he answered a knock on his door from the CIA and found out "biopesticides" for this agency is synonymous with "biological warfare."
BENEFITS OF SPIDERS
More and more benefits from spiders and their byproducts are being discovered, not only for manufacturing anti-venom, but to study venom's effect as calcium channel blockers for cardiac and pain issues, and for Duchenne Muscular Dystrophy. Investigators also are looking at spider gut microbes for human nutrition needs, and spider webs to help clot blood and aid in skin tissue growth.
Kristensen, an EMT and a volunteer with the Yarnell Fire Department, also has worked in the movie industry on films such as Arachnophobia. He has collaborated with scientists in China, Mexico, Australia, Kazakhstan, Oregon and Washington.
In addition to spiders, he breeds black soldier flies, which look like black wasps. The larvae feed on manure and convert their waste material into a granular product that can be used as organic fertilizer and fish food.
LIFESPAN
In an attempt to show attendees how jumping spiders breed, Kristensen placed a female spider into a container of his own design, similar to an ant farm, that housed a male spider. Spiders view each other as good for sex or as a meal, he said. The endeavor did not end well. In one case, the male ate the female, and in the other, the female ate the male.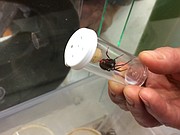 Holding a tarantula under a microscope and projected on a screen behind him, he pointed out the fangs and three pairs of spinnerets – where the web is produced.
Spiders can have two, six or eight eyes. Tarantulas have eight: four smaller eyes in a row behind two large eyes, and two more small eyes at the back of the head. They make great hunters, as do the wolf and jumping spiders, which also have eight eyes.
Anita Kristensen said she was scared of spiders before immigrating to the United States from Czechoslovakia. She found work in Salt Lake City feeding and caring for spiders alongside Chuck in his lab.
"When you start by being curious, wanting to know how they live in nature, studying their colors and shapes, they are just pretty," Anita said. "Then you don't think about the scary part. You find the good things about them."
It almost sounded convincing.
WANT MORE?
The Highlands Center offers its monthly 2019 Insights to the Outdoors series. Visit highlandscenter.org to register for upcoming workshops; presentations are $30 for non-members, $27 for members.
More like this story
SUBMIT FEEDBACK
Click Below to: