Windy conditions spell rough outing at Antelope Hills for Cougars
Prep Golf

By
Aaron Valdez
|
valaaron_94
Originally Published: April 2, 2019 9:59 p.m.
Updated as of Tuesday, April 2, 2019 11:19 PM
PRESCOTT — The persistent winds at Antelope Hills Golf Course have essentially become a course staple.
However, it was one that presented too much of a challenge for the Chino Valley golf team as it finished last place with a 220 (+76) when it hosted Williams, Wickenburg and Bagdad on Tuesday afternoon.
This was the Cougars' fifth outing this season where they have made solid progress up to this point, head coach Jerry Behm said. The team is also relatively young with only one senior on the roster, which is Coury Hawks, who has only been playing for two years.
Despite the team's upside, things didn't go the Cougars' way on their home course's front nine as it was Bagdad who emerged victorious with a team score of 196 (+52), followed by Wickenburg with a 201 (+57), Williams with a 216 (+72) and finally Chino Valley with a 220 (+76).
"We played nowhere near our potential," Behm said.
Photo Gallery
Chino Valley Golf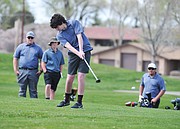 Bagdad's winning effort was spearheaded by Riley Young, who shot a match-low 5-over par 41. Chino Valley's lowest scorer was No. 1 player Keller Rock, finishing with a score of 50 (+14). The junior, who is also a state wrestling champion, said he's been coming along well this season but was definitely thrown off his game by the turbulent winds.
"It wasn't my best day," Rock said. "The wind definitely played a factor in that, so now it's just back to practice to fix some things and hopefully shoot a better score next time."
Lindsey tenBerge came in right behind Rock as she shot a 51 (+15). Behm said he sees much potential in tenBerge considering that she only took up the game of golf just year ago and predicts that she will be finishing within the 40's by the end of the season.
UP NEXT
Chino Valley will travel to Flagstaff for a match against Northland Prep at the Continental Country Club on Tuesday. Tee time is set for 2 p.m.
Aaron Valdez is a sports reporter for The Daily Courier of Prescott News Network. Follow him on Twitter at @Valaaron_94. Email avaldez@prescottaz.com or call 928-445-3333, ext. 2031.
More like this story
SUBMIT FEEDBACK
Click Below to: