Living with less: Friends undergo surgery in battle against obesity

Originally Published: September 30, 2018 7:21 p.m.
Four years ago, Prescott residents and friends Laura Hughes-Stiverson and Tisha Hill were health statistics, but through gastric sleeve surgery and each other's support, they now lead healthy lives.
It all started on a girls trip to Laughlin, Nevada, in 2013. They were strolling the river walk behind the hotels, but Hill struggled.
"I did it the year before; that year I couldn't do it," she said. "I couldn't breathe; I had to stop, like, every 20 steps."
Hill said she was later diagnosed with pulmonary hypertension. On that same trip, Hughes-Stiverson suffered a stress fracture in her foot from dancing.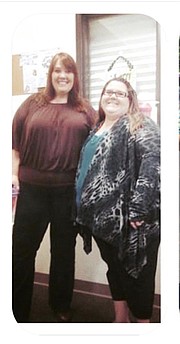 After the trip, a friend who was going in for gastric sleeve surgery suggested Hill and Hughes-Stiverson meet Dr. Daniel Fang from Bridges Center for Surgical Weight Loss at St. Luke's Medical Center. They looked into the surgery and chose to do it, Hill said.
The main thing about surgeries over dieting alone is that it helps people lose more weight and keep it off longer, Fang said.
"Everyone can go on a diet, but once you reach a certain point, it's really tough to lose a substantial amount of weight and keep that weight off," he said.
Hill, who said she has lost about half of her body weight since the surgery, said she feels amazing. Neither of the women is facing any major medical problems anymore, and both report they are more active. They can breathe, tie their own shoes, go on hikes, keep up with the kids and grandkids and live they lives they should have had, Hill said.
Hughes-Stiverson said she wanted be around in the long run for her grandchildren. Before the surgery, she was borderline diabetic with high blood pressure and high cholesterol. Now all those problems are gone and she can do things she couldn't before, she said.
The two of them had each other's support through the whole process, something Hughes-Stiverson said is important.
"I think it's helped our success, long term, and our ability to even be able to continue to help one another with keeping off the weight and supporting one another in our goals," she said.
After the surgery, Hughes-Stiverson said she weighed 125 pounds, though she has gained about 25 of that back in one year. According to Fang, with dieting and exercise alone, when patients are 100 pounds over their ideal body weight, the chances of them keeping that weight off for longer than five years is only about 3 percent. However, the vast majority of patients who choose the surgery are able to do so, he said.
For keeping the weight off, or losing any weight that has been put back on, it means going back to the basics, such as eating right, Hill said.
The surgery isn't a magic pill, Hughes-Stiverson said. Rather, it is a tool that will be there if needed, she said.
Prior to their weight loss, Hughes-Stiverson and Hill were part of the 24.9 percent of people affected by obesity in Yavapai County, according to a prior news release from Angela Menninger. The surgery becomes an option for many when dieting and exercise alone isn't helping and can be a difficult decision.
There have been improvements to weight-loss surgeries with big changes coming in the late 1990s and early 2000s when surgeons began making smaller incisions as opposed to one big long incision, Fang said. This has made it more acceptable and while it is more difficult to do it microscopically, it is safer and more palatable, he said.
SUBMIT FEEDBACK
Click Below to:
More like this story