Business in Brief: Christine Resnick becomes executive director of the Jewish Community Foundation
Originally Published: September 28, 2018 4:37 p.m.
Christine Resnick becomes executive director of the Jewish Community Foundation
In 1998, three Jewish leaders, Harold Greenberg, Robert Morris, and Rabbi William Berkowitz, founded the Jewish Community Foundation (JCF) envisioning that it would become the focal point of Jewish philanthropy for the Greater Prescott area. Over the past 20 years, that dream has become a reality.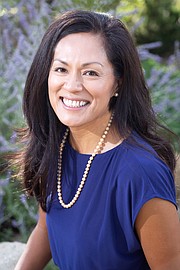 Because of the growth of the Foundation's many programs and initiatives, the Board of Trustees began a search for an executive director in the Spring of 2018. On Aug. 5, search committee chairman David Hess, M.D., announced the appointment of Christine Resnick as the first executive director of the Jewish Community Foundation.
"Christine was the obvious choice for our organization. Christine is a long-term resident of Prescott, has served on the Board of Trustees for seven years, and has served for several years on the Grants Committee," Hess said. "I have the utmost confidence that Christine will serve admirably as our first executive director."
Resnick is a first-generation immigrant from the Philippines who, at the age of 2, moved to Seattle with her parents. Christine and her two brothers grew up in the Seattle area, where her mom and dad found employment with the Boeing Company. Resnick attended Western Washington University where she earned a Bachelors Degree in Business Administration with a concentration in accounting. Next, she became a licensed CPA and then spent 10 years in various positions including a Senior Accountant at the Seattle Times and a controller for a software development company.
Resnick and her husband, Dr. Bill Resnick, have lived in Prescott for the past 16 years and have two teen-age children. She is known by many in the community for her volunteer efforts on behalf of our schools, where she has served on the Board at Primavera School, the Boosters at BASIS, PTO Treasurer at Granite Mountain School, and PTSA Hospitality Chair at Mile High Middle School. In addition, her volunteer efforts have assisted countless special-ed students and most recently she has helped students at Mile High Middle School obtain credits for classes those students had previously failed.
When asked about the appointment of Resnick to the position of executive director, JCF Chairman Emeritus Harold Greenberg said: "Christine is a story of the American dream. She came here as a child, applied herself, and has become a respected professional known for her generosity and her passion for the youth in our community. For the past seven years I have observed Christine as she has taken a leadership role in many of the Jewish Foundation's ongoing programs and initiatives. She possesses a unique set of skills that will serve the Foundation well as we expand our efforts in the community."
Information and photo provided by the Jewish Community Foundation.
Stocks close out best quarter in 5 years on a quiet note
NEW YORK (AP) — U.S. stocks ended back where they started Friday as the stock market wrapped up its best quarter in almost five years. Electric car maker Tesla plunged after federal regulators moved to oust CEO Elon Musk following his tweet last month saying that he was close to a deal to take Tesla private.
Health care companies did better than any part of the market during the third quarter and they continued to rise Friday, while technology companies rose as chipmakers also traded higher. Facebook said it discovered a security breach in which 50 million accounts were accessed by unknown attackers, and its stock fell again, ending its worst quarterly run in six years.
Global banks fell and European stocks skidded after Italy's new government announced a big increase in spending. Italy's main stock index fell almost 4 percent as investors worried that the government's plan will lead to a clash with European Union leaders who want Italy to reduce its debt level.
Through the third quarter, pain in other markets led to gains for U.S. stocks, and that was true again Friday. The S&P 500 rose 7.2 percent, its biggest increase since the end of 2013.
The S&P 500 index inched down 0.02 points to 2,913.98. The Dow Jones Industrial Average rose 18.38 points, or 0.1 percent, to 26,458.31. The Nasdaq composite added 4.38 points, or less than 0.1 percent, to 8,046.35. The Russell 2000 index of smaller-company stocks gained 6.04 points, or 0.4 percent, to 1,696.57.
More US corporate giants warn tariffs will mean price hikes
From Ford to Walmart to Procter & Gamble, a growing number of iconic American companies are warning that tariffs on U.S. imports are raising their costs and prices.
Jim Hackett, CEO of Ford, the second-largest U.S.-based automaker, said Wednesday that President Donald Trump's taxes on imported steel and aluminum will cost Ford $1 billion through 2019.
Likewise, Walmart, America's largest retailer, has told the administration that the latest round of taxes — on $200 billion of Chinese imports — could increase prices for its shoppers. Walmart specifically mentioned items ranging from car seats, cribs and backpacks to hats, pet products and bicycles.
Procter & Gamble, the consumer products giant, has warned of both potential price increases and job losses as a result of the tariffs.
In the meantime, drinking Coca-Cola is costing more because of the tariffs. Macy's, too, has warned of likely price increases. So has Gap.
On Wednesday, Federal Reserve Chairman Jerome Powell took on the issue at a news conference after the Fed announced its latest interest rate hike. Asked about the tariffs forcing up prices for America's consumers, Powell agreed that Fed officials are hearing from businesses about forthcoming higher costs. "You don't see it yet," the chairman said, referring to the data the Fed studies. But, he acknowledged, "the tariffs might provide a basis for companies to raise prices in a world where they've been very reluctant to and unable to raise prices."
At his own news conference Wednesday in New York, Trump rejected any notion that his tariffs posed an economic risk, echoing assertions by his administration that consumers would barely notice the new taxes.
"It's had no impact ... on our economy," the president said after meetings with foreign leaders at the United Nations General Assembly.
Hackett, in a television interview, revealed the $1 billion estimate that he said Trump's steel and aluminum tariffs are costing Ford. He said the figure is a year-over-year increase from March through 2019.
More like this story
SUBMIT FEEDBACK
Click Below to: