Bradshaw Mountain goes 7-0, matches 1986 record
Prep Football
By
Doug Cook
|
dougout_dc
Originally Published: September 28, 2018 11:57 p.m.
PRESCOTT VALLEY — It finally happened. After 32 long years, Bradshaw Mountain's football team has replicated a program-best 7-0 start.
And, my, how impressive this run has been.
Photo Gallery
Bradshaw Mountain Vs Flagstaff 092818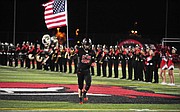 The AIA 4A No. 2-ranked Bradshaw Mountain football team routed Grand Canyon region foe Flagstaff, 42-7, on homecoming night, Friday, Sept. 28, at Bob Pavlich Field, becoming the first Bears squad since 1986 to reach the seven-straight-wins plateau.
"It's breaking history, and we're all excited about it," Bears tailback Anthony Mata said. "That's what we've been striving for since the beginning of the season — undefeated. And we're still going for it, no matter what."
The Bears, who started 0-5 last season, are also 3-0 in the Grand Canyon region. They have a chance Friday, Oct. 5, to make program history with eight victories in a row if they can beat area/region rival and No. 20-ranked Prescott at Pavlich Field.
Photo Gallery
BMHS Homecoming Royalty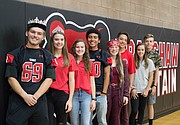 Flagstaff, which struggled against Bradshaw Mountain's superior line play, dropped to 2-4 and 1-2.
"There's a lot of great athletes on this [Bears] team, and they're solid all-around," Eagles co-coach Bobby Castillo said. "But they definitely won in the trenches, and we were just outsized and outmuscled on the inside."
Mata helped propel the hosts to the victory by rushing for three touchdowns, all in the first half, as Bradshaw Mountain built a 35-7 halftime lead. Mata ran for TDs of 15, 23 and 71 yards, finishing with 125 yards on seven carries.
"Anthony had a legion of blockers out in front of him, and he hit the holes hard," Bears coach Chuck Moller said. "I'm just proud that he got the opportunity to do it."
Sophomore quarterback Josh Grant, who started for the third consecutive game on Friday in place of senior starter Austin Gonzales, ran for two TDs of 15 yards and 6 yards. Grant finished with 76 yards rushing on seven carries, and he completed 6 of 16 passes for 91 yards with a 36-yard TD pass to Austin Yarbrough. He had one interception.
"Starting at varsity as a sophomore — that's crazy," Mata said of Grant. "Him coming in like that after our whole situation, he did great. I believe in him fully, every game."
Bradshaw Mountain's defense, as usual, was monstrous. Despite allowing a 79-yard touchdown run late in the first quarter to beefy sophomore Eagles tailback Luis Jaramillo, the Bears cruised from there. Jaramillo was the lone bright spot for the visitors, rushing for 161 yards on 15 carries.
Bears senior safety Logan Brannan registered an interception and recovered a blocked field goal that paved the way for the blowout.
Flagstaff starting QB Henry Tagle suffered an injury in the first half that kept him out the rest of the game. His backup, Joshua Morrow, also went down due to injury. Backup QB Joe Weidinger, a junior, finished the contest.
The Bears haven't allowed more than 20 points in a game this season, and Friday's performance was one of the stingy defense's best. Bradshaw Mountain is down at least six players, including senior linemen Cameron Harris and Hunter Rowe, who have both suffered knee injuries.
On Friday, senior safety Elijah Knisely was the latest casualty, although he hopes to still be able to play as the season winds down. In the first half, he suffered an injury to a ligament in his right thumb and he did not return in the second half.
Bradshaw Mountain QB Gonzales, who had missed the Bears' last two games after serving a school- and team-imposed suspension, returned to the sidelines on Friday but he was dressed in street clothes and did not play.
"We've had a lot of injuries in these past weeks, some suspensions, and it's really taken a toll on our team," Brannan said. "But a lot of junior and sophomore guys have been able to step up, and we've been able to fill those positions with inexperienced players, and we're playing up to our potential."
UP NEXT
Bradshaw Mountain continues on in Grand Canyon region action when it plays host to Prescott (4-2 overall, 2-0 region) at 7 p.m. Oct. 5. The Badgers upset No. 7 Coconino (4-2, 1-2), 28-16, Friday at Bill Shepard Field.
Flagstaff welcomes region opponent Lee Williams (2-4, 0-2) to town at 7:30 p.m. Oct. 5 at Walkup Skydome on the campus of Northern Arizona University. The Volunteers had a bye week this week.
Doug Cook is a reporter for The Daily Courier. Follow him on Twitter at @dougout_dc. Email him at dcook@prescottaz.com or call 928-445-3333, ext. 2039.
More like this story
SUBMIT FEEDBACK
Click Below to: