Everything you ever wanted to know about birdwatching (but were afraid to ask)

Originally Published: September 27, 2018 8:43 p.m.
Quick, get the guide — red head blending into a yellow body with black wings, back and tail. Looks like we've got a Western Tanager.
The checklist says they're pretty common in the summer and can even be seen in the spring and early autumn.
Eric Moore, owner of Jay's Bird Barn, says the thing he loves about birdwatching is it's a hobby that anyone can take part in anywhere they go.
"I've never been any place in the world where I've not seen a bird," Moore said. "It's really a fun hobby because you can engage in it wherever you are."
Moore mentioned one morning when his store manager called to him about a zone-tailed hawk flying over the parking lot in front of the store and there was a second one in a tree behind the store. Even at work, he can watch birds, he said.
Moore categorizes the customers of Jay's Bird Barn into two categories: casual backyard birders, which make up 95 percent of the store's customers; and field birders like him, who are hardcore birdwatchers and want to go to different countries to see different birds.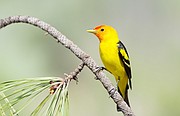 The casual backyard birders enjoy the bird activity in their backyard, enjoy feeding and watching them, and all they need to know is what kind of bird they're seeing — as well as what they eat, how to attract them and when they can usually see them, Moore said. For those casual birders, Jay's Bird Barn and the Highlands Center for Natural History created a folding bird guide specific to the Arizona Central Highlands by gleaning out of the Sibley's Guide to Birds the common species of the central highlands.
"For casual birders, this is phenomenal. A very traditional bird book will have hundreds and hundreds of species in it, they're very comprehensive. They cover all the birds that occur like in Western North America," Moore said. "Well, Western North America includes California, Oregon, Washington, Alaska, Canada. You're not going to see those birds in your yard."
The Prescott area is kind of on a migration route with Willow and Watson lakes, he said. Lots of birds pass through the area on their way to the tropics, and the area can get amazing migration activity. Once, on a hike at Watson Lake, he said he saw ibises and egrets, and sometimes gulls, terns and loons can be seen. More than 360 species of birds have been documented within a 10-mile radius of Prescott.
The two items Jay's Bird Barn sells more than anything else are birdseed and optics, he said, noting the store carries the Vortex and Swarovski brands of optics, which are popular with birdwatches. As for birdseed, all of the store's birdseed is mixed in Prescott with Yavapai Exceptional Industries (YEI!) and last year Jay's Bird Barn sold more than 500,000 pounds of birdseed. Big-box stores may all sell the same birdseed in all of their stores, he said, but not all customers are going to see the same birds.
"We make our own blends right there in Prescott, use no filler ingredients, and each blend we make is specific for different habitats," Moore said. "If you lived off of Copper Basin Road in Timber Ridge, you're going to have completely different birds than somebody who says, 'I live in Prescott Lakes' or 'I live in Chino Valley,' or 'I live in Williamson Valley.' "
The reason people feed birds is not because the birds need them to, but because they want to invite nature into their lives in order to enjoy the birds, see them up close and personal, and see their interactions, behaviors and colors, Moore said. The birds here now have been in the area far longer than man who has done a lot of habitat destruction, and feeding birds helps replace the food sources they've lost due to their native vegetation being removed.
There are several resources in the community people wanting to get more into birdwatching can tap into, such as the free bird walks Jay's Bird Barn offers, he said. Held weekly for anyone who wants to come with a limit of 12 people, the walks to go different places whether it is Willow Lake, Granite Basin, Chino Valley or Fain Park.
For walks in the Prescott area, anyone interested can sign up by calling 928-443-5900 and meeting at the store, 1046 Willow Creek Road, Suite 105, at 7 a.m. April through September, and at 8 a.m. October through March. The next walk is Friday, Sept. 28, to Willow Lake.
Getting a field guide would be helpful, too, as would joining the Prescott Audubon Society, which meets once a month at Trinity Presbyterian Church, 630 Park Ave., on the fourth Thursday at 7 p.m.
Every year in December, each of the individual Audubon Society chapters does a Christmas bird count, going through an assigned radius and identifying the birds and counting how many of them there are from sunup to sundown, Moore said. It's a project that has been going on for more than a century.
For more information about the Prescott Audubon Society, visit www.prescottaudubon.org.
Jays' Bird Barn also has locations in Sedona, 2360 W. Highway 89A. Suite B-1. and Flagstaff, 1490 S. Riordan Ranch St. For information on Sedona and Flagstaff bird walks, visit www.jaysbirdbarn.com.
More like this story
SUBMIT FEEDBACK
Click Below to: