Bradshaw Mountain out-swims Kingman schools in Prescott Valley multiple
Prep Swimming

Originally Published: September 27, 2018 11:24 p.m.
PRESCOTT VALLEY — The Bradshaw Mountain swim team claimed first overall after hosting a four-way meet with Kingman, Kingman Academy and Lee Williams on Thursday afternoon in Prescott Valley.
The Bears had several first-place finishes, including winning five of six relay events.
Individually, Jordyn Bassford took first in the 100-meter backstroke with a 1:20.73 and was first in the 500 back with a 6:25.59 time.
Photo Gallery
BMHS Swimming 092718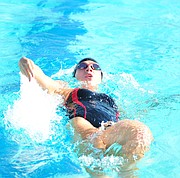 Lucy Stoxen was first in the 100 breaststroke with a 1:28.45 time, and first in the 100 butterfly with a 1:19.23 time. Renee Baillie was first in the individual medley with a 2:31.98 time, while Shannon Moore was first in the 200 freestyle with a 2:25.43.
For the boys, Aden DeHerrera was first in the 200 freestyle with a 2:36.40 time, while Josh Baillie was first in the backstroke with a 1:02.68 time. He was also first in the 500 with a 5:16.30 mark.
Lastly, Micah Smith was first in the 100 freestyle with a 1:01.40 time.
UP NEXT
Bradshaw Mountain heads over the hill to swim against Mingus on Thursday, Oct. 4, in Cottonwood. Official start time is set for 4 p.m.
Brian M. Bergner Jr. is news/sports editor for The Daily Courier of Prescott News Network. Follow him on Twitter, Facebook, Instagram and SoundCloud at @NewsSportsNotes. Email bbergner@prescottaz.com or call 928-445-3333, ext. 1106.
More like this story
SUBMIT FEEDBACK
Click Below to: