A night to celebrate
Police: National Night Out chance to bond, educate

Originally Published: September 25, 2018 7:05 p.m.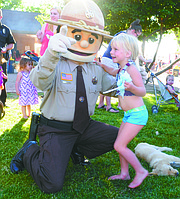 After the event was rained out last year, the Chino Valley Police Department decided to move its fifth annual National Night Out celebration to Tuesday, Oct. 2, said Chino Valley Police Department Civilian Officer Marrilee Easton.
This will be the first time Chino Valley has hosted the National Night Out event in October. It usually is celebrated on the first Tuesday in August, but the first Tuesday in October is an accepted alternate date for the nationwide community campaign.
National Night Out is meant to promote police-community partnerships as well as bring a heightened awareness to crime and drug prevention, Easton said.
This year's celebration, scheduled for 5 to 9 p.m. at Memory Park, will have free food, giveaways, a raffle, bouncy houses, activities, performances by DJ BoomBandit and country music artist Matt Farris and appearances by the Arizona Game and Fish Department, firefighters, the Yavapai County Sheriff's Office and a helicopter from the Department of Public Safety. The Chino Valley Police Department is also going to do an impaired driving course for people 15 years and older, Easton said.
"We're going to allow them to drive our side-by-side ranger and they're going to be using either the marijuana goggles or the drunk goggles," she said. "They're going to get firsthand experience on how it feels to drive impaired and why you shouldn't drive impaired."
The police department received the goggles after last year's National Night Out and has been waiting a year to put the course on, Easton said. It has been thinking about it for a couple of years as well, she said.
The department's new McGruff the Crime Dog costume is going to be unveiled too, Easton said. The Chino Valley Police Foundation applied for and received a grant from APS to purchase the new costume, which will replace the old one that was more than 20 years old.
In putting the event on and bringing the community and police department together as a partnership, the way that people look at police officers has improved not just in Chino Valley but all over the place, Easton said.
"I have a lot of people that come to the police department and thank us and know that we're here for them and we're here to make this community safe," she said. "I know a lot of people just love this event because of that."
For more information on National Night Out, contact Easton at 928-636-4223 ext. 2 or at measton@chinoaz.net. Memory Park is located at Palomino Road and Road 1 West.
More like this story
SUBMIT FEEDBACK
Click Below to: