A safe haven: Prescott Area Shelter Services 'saved my life,' woman says

By
Nanci Hutson
|
HutsonNanci
Originally Published: September 24, 2018 8:21 p.m.
Cynthia Lawrence considers herself of hearty stock, a self-reliant woman able to take whatever comes.
A twice-divorced, 69-year-old mother with two adult sons and 12 grandchildren, she retired from sales management and then worked part-time as a housekeeper. She never expected she would run out of funds.
In the summer of 2017, the then-Montana resident opted to uproot before the seasons changed "because I'd had enough winter and cold to last me the rest of my life."
One of her sons flew her out to Colorado for a visit. She then went to stay with a sister for about a month in Utah where she helped take care of the family horses. She admits she was aimless, but come late fall she knew she could no longer rely on family; she yearned to reclaim her independence.
Her sister had some connections in Prescott Valley, so Lawrence piloted her truck to northern Arizona.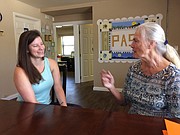 "I'm not sure what happened. I just lost all focus," Lawrence said of finding herself after two weeks in a hotel with no place to go and no money to pay for another night. "I felt like I was somebody else … I had never run out of money in my life."
With no options or prospects, Lawrence called for home assistance. The operator who answered directed her to Prescott Area Shelter Services. Her fortunes turned: the 19-bed shelter for women and children had an opening; the downtown Prescott shelter runs most of the year at full capacity with a waiting list.
"She had a place for me. No obstacles," Lawrence said of her case manager, Marissa O'Brien.
Unfamiliar with shelters, Lawrence said she arrived that November with no small amount of trepidation — she expected an oversized gymnasiums with mattresses on the floor.
Instead, Lawrence pulled up to a cozy house on North Rush Street just beyond Yavapai College.
Once inside, she was greeted with friendliness. In the back, mural-covered dormitory area she was assigned a single bed covered with a donated quilt and a trunk to keep her personal belongings.
Today, living in her own senior apartment in Prescott Valley, she said she feels divine forces led her to the place where she and others of all ages are treated to comfort and hope.
From the start, Lawrence said she was "treated like family."
"These were people who really, really care," she said.
Director of Programs Katee Norris said the shelter opened in 2007 and offers up to three months of housing for homeless single women and mothers with children up to age 12. The aim is to be a safe haven for these women in transition, including those who are in recovery from addictions, she said.
Each client works with O'Brien on a self-sufficiency plan with daily, weekly and monthly goals, Norris explained. On a daily basis, each client is required to be in the community working on their individual goals, be that obtaining mental or physical health care, addiction assistance, or employment that will enable them to secure permanent, affordable housing, she said. The shelter will provide up to a $500 match for clients who are able to save that as part of their transition plan, she said.
Open House
Prescott Area Shelter Services (PASS) welcomes the public to attend its third annual open house from 1 to 4 p.m. Wednesday, Oct. 17, at 336 N. Rush Street in Prescott. The event will offer local residents the chance to see the shelter space and new floors made possible through $18,000 from the city's Community Development Block Grant program. In addition, an anonymous donor assisted with a complete renovation of the shelter kitchen with new cabinetry, floors and appliances. For more information about the shelter, or how to donate and volunteer, call 928-778-5933.
In PASS' history — the agency became an official nonprofit charity in 2009 — the agency has provided assistance to 2,400 clients with 88 percent able to secure housing that enabled them to avoid future bouts of homelessness, Norris said.
PASS operates with a limited staff — Executive Director Carmen Frederic and O'Brien are the sole full-time employees with Norris working part-time; she is also a registered nurse. They then have four volunteer, overnight advocates and about 100 other volunteers who assist with everything from fundraising activities to serving the evening meal each day.
Every woman is expected to do chores at the shelter in the evening hours, and all of the clients and their children share an evening meal together.
"The food is awesome," Lawrence said.
From 1 to 4 p.m. Oct. 17, the shelter will host its third annual open house. The event is a chance for the community to interact with clients and staff and learn more about the services and ways to help.
During her three-month, nine-day stay, Lawrence said she worked part-time as a housekeeper, volunteered at the library and spent time visiting some of the area parks. At the shelter, she strived to be a mentor to some of the younger women, and often picked up extra chores. She said she found the routine to be therapeutic. To Lawrence, the shelter enabled her to shed her prior "bulldog" tendencies.
At the end of it all, Lawrence managed with O'Brien's assistance to secure long-term housing she could afford; a two-bedroom apartment in a 55+ apartment complex in Prescott Valley.
"This was a journey God put me on and wanted me to take," Lawrence said of her temporary homelessness. "It redirected me. I don't know where I would be if I didn't come here. I think they saved my life."
Follow Nanci Hutson on Twitter @HutsonNanci. Reach her at 928-445-3333 ext. 2041.
More like this story
SUBMIT FEEDBACK
Click Below to: