Embry-Riddle ROTC member Austin Fischer receives 'Cadet of the Year' honor in Washington

Originally Published: September 24, 2018 2:15 p.m.
Embry-Riddle student and Air Force Reserve Officer Training Corps (AFROTC) Detachment 028 cadet Austin Fischer was the recipient of the 2018 Air Force Association (AFA) "Outstanding ROTC Cadet of the Year" award. Fischer received this honor Sept. 17 at the AFA Air, Space, and Cyberspace Conference in Washington, D.C.
Fischer was chosen for the award from the more than 13,000 college AFROTC cadets nationwide. He became eligible by winning the William Randolph Lovelace Award - recognized as the top Aerospace Studies (AS) 300 cadet in the Southwest Region (one of four in the nation) in academics, athletics, military performance, volunteerism and leadership.
"This is a tremendous honor," said Fischer. "It is not a testament to anything I have done, but rather to the incredible support and leadership that our cadre continuously demonstrate to us cadets at Embry-Riddle. Without our cadre, I would not be the person I am today, let alone be here receiving this award. I am humbled and thankful."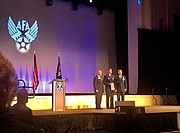 Currently a senior aerospace engineering student from Seattle, Washington, Fischer was first recipient of the Raisbeck Aviation High School/Embry-Riddle Prescott Scholarship--a four-year, full-tuition scholarship awarded to exceptional high school students. Since he began his higher-education experience, Fischer has distinguished himself onto the Dean's List, the Honor Roll and has earned four Academic Awards. He has been a member of Detachment 028 since he arrived as a freshman and contracted with the Air Force during his sophomore year.
"Cadet Fischer is most deserving of this recognition," said Col. Jon Berry, AFROTC Detachment 028 Commander. "His efforts are proof-positive that we have the best and brightest talent here at Embry Riddle Prescott, and the AFROTC program. On behalf of the Detachment 028 cadre, I extend a hearty 'well done' to Cadet Fischer and look forward to his continued success."
Punctuating his selection as one of the best in the nation is Fischer's commitment to helping others and his profound capabilities as a leader; from helping to develop physical and academic performance in his award-winning flights, to his commitment as an Arnold Air Society (a professional, honorary, service organization advocating the support of aerospace power) commander and National Conclave Public Affairs Officer, to fueling connectedness across Embry-Riddle as a founder of the detachment booster club.
"Cadet Fischer leads from the front in all aspects of Air Force ROTC - not only does he live and breathe the standard, he uses his passion to inspire those around him," said U.S. Air Force Capt. James L. Harper, Associate Professor of Aerospace Studies at Embry-Riddle Prescott.
Fischer said his career goal is to fly fighters in the Air Force, and then become involved in some facet of space and higher military leadership.
"I don't know I'll get there, but I'm going to make it to space sometime in my life," Fischer said. "I'm going to make that happen!"
Information provided by Embry-Riddle Aeronautical University.
More like this story
SUBMIT FEEDBACK
Click Below to: