PUSD Student of the Week: Kendall Onnen
Originally Published: September 23, 2018 7:56 p.m.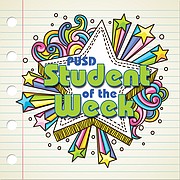 Kendall Onnen is a student at Taylor Hicks Elementary School.
In nominating her as Student of the Week, teacher Shelley Soifer says Kendall "goes out of her way to be kind to everyone around her. She wants to be everyone's friend and never leaves anyone feeling left out."
She also says Kendall is quite athletic and loves to swim, dance and play a variety of sports. "Kendall is definitely an all-around awesome Bobcat!"
Information provided by Prescott Unified School District.
More like this story
SUBMIT FEEDBACK
Click Below to: