Prescott Masters Swim Team coach 'swims to live, lives to swim'

By
Nanci Hutson
|
HutsonNanci
Originally Published: September 22, 2018 6:50 p.m.
Brigid Bunch may not be a mermaid, but she admits her favorite place to be is in the water.
The 55-year-old top champion United States Masters Swimmer and Yavapai College competitive swimming, fitness swimming and Pilates instructor was born into her aqua affection — her father managed a swimming pool in the San Francisco Bay area. She was just 7 years old when she joined her first swim team; she earned her first coaching job at age 17.
She said she cannot remember a time when she was not splashing and frolicking in the water.
"It's just the best place I can think to be," said the Prescott Masters Swim Team coach.
The 20-year Prescott resident admits to a shyness that belies her passion to recruit anyone she can to join the local masters swim team. In 2016, Bunch was honored with a national recruitment award from the United States Masters Swimming organization. She recruited 39 new swimmers.
Before coming to Prescott, Bunch worked for Stanford University as a financial analyst and was a member of the local masters swim team. So when she and her husband, Ted, settled in Prescott she opted to seek out the local team. The couple have three children, 25-year-old Kelli, and 16-year-old twins, Keely and Riley, all of them lifeguards but not competitive swimmers.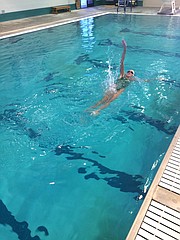 Upon arrival to her new hometown, Bunch said she was surprised to find the local masters swim team had only two other members, both men. She said she was determined to build a co-ed team. To Bunch, the lifelong sport is not only good exercise but is good for one's self-esteem and builds lasting friendships.
Even as a threesome, Bunch said the early team traveled to national meets where members won top medals. She, too, has attended international meets.
Bunch's recruitment strategy is simple: she pitches to any swimmer 18 and older to "just come with us and laugh."
The team requires no dues, no set practice schedules, and members need no prior competition skills. Just a will to give it their best.
"Let's go to some swim meets and have some fun," said Bunch, whose team now boasts 30 swimmers.
The Prescott Masters Swim Team members regularly earn top 10 medals in their age categories for their respective strokes. Bunch, too, has members who do relay races; two 75-year-old team members earned first-place medals.
A number of the members are students in her classes, but again that is not a requirement.
"We are all inclusive," Bunch said.
The sole criteria for the team is a desire to swim at one's best and be up for a good time.
"It's the perfect thing for stress relief, and making friends," said Bunch, who practices at both the Yavapai College pool where she teaches and at the Prescott YMCA. "It's playing a kids game without all the pressure."
On any given day, Bunch can be found teaching, coaching, or practicing her own strokes. She spends no less than two hours in one of the city's two pools — the one at Yavapai College where she teachers and at the Prescott YMCA where she is a member.
This summer, Bunch won top national billing at the Pan AM and USMS national meet in Orlando as the No. 1 female swimmer in the 200-meter long course backstroke, edging out her opponent by just six seconds. She broke a Pan Am record by 14 seconds.
For Bunch, the new record was all that much sweeter because a year ago she fractured a vertebrae jumping off a waterfall at Fossil Creek, and five months ago she underwent surgery on her left shoulder. Far from adverse from hard work, Bunch was not about to let those setbacks keep her away from the water or competition. She hopes to continue to rank at the top in national meets.
"It's my identity," Bunch admits.
One of the original team members, Ray Bellem, 82, said Bunch has "inspired a lot of swimmers."
"She's always encouraging us," said Bellem, a top-ranked competitor in his age category. "She's always bugging me to enter this or that meet. She's very passionate about it."
He quoted a line about Bunch someone once used to describe him: "She lives to swim, and swims to live."
More like this story
SUBMIT FEEDBACK
Click Below to: