Need2Know: Krispy Kreme bails on PV; Western Heritage Foundation filling vacancy on Whiskey Row; car wash developments in PV; new Alfonso's in Prescott

By
Max Efrein
|
mefrein
Originally Published: September 22, 2018 6:33 p.m.
Krispy Kreme bails on Prescott Valley
In early July, it was reported that Krispy Kreme had gone through an initial project review process with the Town of Prescott Valley regarding a stand-alone building in the Crossroads shopping center.
"When a company does that and is in escrow on a property, that's usually an indication that they're going to follow through with opening a business," said Ben Hooper, economic development coordinator for the Town of Prescott Valley.
In this case, however, Krispy Kreme decided to cancel its escrow on the property.
"So, as of right now, they are not going to be coming," Hooper said.
New Alfonso's in Prescott
Alfonso's, a locally-owned fast food Mexican restaurant, has opened a new location next to Trader Joe's at Highway 69 and Lee Boulevard in Prescott.
This is the sixth location opened in the tri-city area, with one in Prescott Valley, one in Chino Valley and four now in Prescott.
Western Heritage Foundation filling vacancy on Whiskey Row
The Prescott Western Heritage Foundation has signed a lease for a planned Western Heritage Center.

The new center will be located on Whiskey Row in downtown Prescott. The space it is filling was previously occupied by The Rancher's Wife, a rustic furniture, home décor and western wear shop that went out of business in June 2017. A restaurant was originally expected to open in that location later this year, but the plans fell through, said John Heiney, spokesperson for the City of Prescott.
The center is expected to officially open sometime after the first of the year. It will offer artifact and memorabilia displays, events, entertainment and presentations of Prescott's and Yavapai County's unique Western history.
Car wash developments in PV
Two new car washes with different owners are in the early stages of being developed in Prescott Valley.
One is called Scrub Bot Express Wash and will be located on the southeast corner of Highway 69 and Prescott East Highway. The owner of that development has acquired a grading permit and begun prepping the site for construction, said Prescott Valley's Ben Hooper.
"They own the property now, so I would imagine that they want to build as quickly as possible, but they have not turned in building plans yet," Hooper said.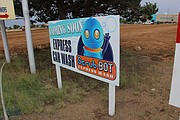 The car wash will be taking up only a portion of the lot being graded, so the remaining acre will be available for another business to lease or purchase down the road, Hooper said.
The other car wash development, located next to the Maverik gas station along Glassford Hill Road, has gone through the initial project review phase and is likely to move forward with the plans in the near future.
"It's pretty much a done deal, and they are closing on that piece of land in the next couple of weeks," Hooper said. "Once they own that, I would imagine that they too will look pretty quick to get vertical."
To submit items for the Courier's Need2Know, email twieds@prescottaz.com; for legal advertisements, email tbryant@prescottaz.com.
More like this story
SUBMIT FEEDBACK
Click Below to: