Photo: Pinwheels for peace
Originally Published: September 20, 2018 7:26 p.m.
Updated as of Thursday, September 20, 2018 8:49 PM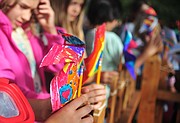 Third-grade students at La Tierra Community School in Prescott place pinwheels they made along the fenceline at the school Thursday, Sept. 20, 2018, in honor of International Peace Day, which is celebrated on Sept. 21. Prescott PeaceBuilders will hold a candlelight peace vigil at 7 p.m. Friday at the Yavapai County Courthouse Plaza in Prescott.
More like this story
SUBMIT FEEDBACK
Click Below to: