Now Playing: Sept. 21, 2018
Originally Published: September 20, 2018 10:14 p.m.
Movies playing at Harkins Theatres, 7202 Pav Way, Prescott Valley (Highway 69 between Glassford Hill and Lake Valley roads), as of press time. 928-775-7444; www.harkins.com.
(NEW) LIFE ITSELF - As a young New York couple go from college romance to marriage and the birth of their first child, the unexpected twists of their journey create reverberations that echo over continents and through lifetimes. Stars Oscar Isaac, Olivia Wilde, Mandy Patinkin, Olivia Cooke, Laia Costa, Annette Benning, Antonio Banderas. R – drama, romance
(NEW) FAHRENHEIT 11/9 - Filmmaker Michael Moore predicted that Donald Trump would become the 45th president of the United States. Traveling across the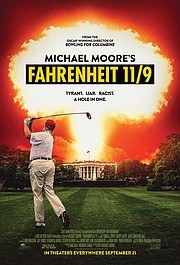 country, Moore interviews American citizens to get a sense of the social, economic and political impact of Trump's victory. Moore also takes an in-depth look at the media, the Electoral College, the government agenda and his hometown of Flint, Michigan. R – documentary
(NEW) ASSASSINATION NATION – High school senior Lily and her three best friends live in a haze of texts, posts, selfies and chats -- just like the rest of the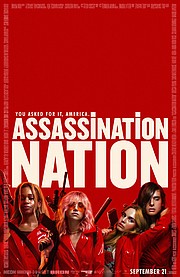 world. Their small town gets turned upside down when an anonymous hacker starts to reveal personal messages and secrets of thousands of people. As anger erupts into full-blown violence, the four girls soon find themselves in a fight for their lives against an armed mob. Stars Odessa Young, Suki Waterhouse, Hari Nef, Abra, Anika Noni Rose, Colman Domingo, Maude Apatow, Joel McHale, Bella Thorne. R – drama, thriller
(NEW) THE HOUSE WITH A CLOCK IN ITS WALLS - In 1955, ten-year-old Lewis Barnavelt goes to New Zebedee, Michigan to live with his uncle Jonathan in a creaky old house which has a mysterious ticking heart. Recently orphaned, Lewis only wants to have a normal childhood but soon discovers he's in line for anything but that. Uncle Jonathan is in fact a mediocre but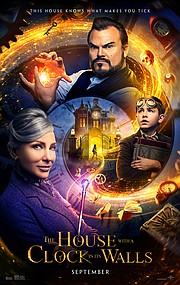 well-intentioned warlock, while his next-door neighbor and good friend Florence Zimmerman is a far more powerful good witch. Stars Jack Black, Cate Blanchett, Owen Vaccaro, Renée Elise Goldsberry, Sunny Suljic, Kyle MacLachlan. PG – fantasy, comedy
Also showing:
WHITE BOY RICK - Rick Wershe is a single father who's struggling to raise two teenagers during the height of the crack epidemic in 1980s Detroit. Wershe sells guns illegally to make ends meet but soon attracts attention from the FBI. Federal agents convince his son, Rick Jr., to become an undercover drug informant in exchange for keeping his father out of prison. When young Rick gets in too deep, he finds himself seduced by the lure of easy money and becomes a drug dealer himself. Stars Matthew McConaughey, Richie Merritt, Bel Powley, Jennifer Jason Leigh, Brian Tyree Henry, Rory Cochrane, RJ Cyler, Jonathan Majors, Eddie Marson, Bruce Dern, Piper Laurie. R- drama, mystery
BISBEE '17 - Radically combining collaborative documentary, western and musical elements, the film follows several members of the close knit community as they attempt to reckon with their town's darkest hour. In 1917, nearly two-thousand immigrant miners, on strike for better wages and safer working conditions, were violently rounded up by their armed neighbors, herded onto cattle cars, shipped to the middle of the New Mexican desert and left there to die. This long-buried and largely forgotten event came to be known as the Bisbee Deportation. Mike Anderson, Charles Bethea, Benjamin Joel Caron, Chris Dietz. PG, documentary
THE WIFE - Joan and Joe remain complements after nearly 40 years of marriage. Where Joe is casual, Joan is elegant. Where Joe is vain, Joan is self-effacing. And where Joe enjoys his very public role as the great American novelist, Joan pours her considerable intellect, grace, charm and diplomacy into the private role of a great man's wife. As Joe is about to be awarded the Nobel Prize for his acclaimed and prolific body of work, Joan starts to think about the shared compromises, secrets and betrayals. Glenn Close, Jonathan Pryce, Christian Slater, Max Irons, Harry Lloyd, Elizabeth McGovern, Annie Starke. R, drama
UNBROKEN: PATH TO REDEMPTION – Haunted by nightmares of his horrific experiences, World War II hero Louis Zamperini meets Cynthia Applewhite, a young woman who becomes his wife. Zamperini's personal demons soon threaten to destroy his marriage -- until he hears the stirring words of the Rev. Billy Graham in 1949. Embracing his newfound Christian faith, Louis starts to turn his life around by learning to forgive his former oppressors and spreading the message of peace and love. Samuel Hunt, Merritt Patterson, Vanessa Bell Calloway, Bobby Campo, Maddalena Ischiale, David DeLuise, Bob Gunton, David Sakurai, Gary Cole, Will Graham. PG-13, Drama
A SIMPLE FAVOR - Stephanie Smothers is a mommy blogger who seeks to uncover the truth behind her best friend Emily Nelson's sudden disappearance. Anna Kendrick, Blake Lively. R. comedy, drama
THE PREDATOR - From the outer reaches of space to the small-town streets of suburbia, the hunt comes home. The universe's most lethal hunters are stronger, smarter and deadlier than ever before, having genetically upgraded themselves with DNA from other species. When a boy accidentally triggers their return to Earth, only a ragtag crew of ex-soldiers and an evolutionary biologist can prevent the end of the human race. Stars Boyd Holbrook, Trevante Rhodes, Jacob Tremblay, Keegan-Michael Key, Olivia Munn, Thomas Jane, Alfie Allen, Sterling K. Brown. R – thriller, science-fiction
GOD BLESS THE BROKEN ROAD – Amber's ideal life is shattered when she loses her husband to the war in Afghanistan. Two years later, she finds herself in a struggle to save her home while providing for her 9-year-old daughter, Bree. When up-and-coming race car driver Cody Jackson rolls into town, Amber and Bree become wrapped up in his pedal to the metal way of life. With her faith hanging in the balance, Amber is forced to decide between the broken road she knows so well or trusting in a new path that God has provided. Stars Lindsay Pulsipher, Kim Delaney, Makenzie Moss, Robin Givens, Andrew Walker, Gary Grubbs. PG-13, drama
THE NUN – When a young nun at a cloistered abbey in Romania takes her own life, a priest with a haunted past and a novitiate on the threshold of her final vows are sent by the Vatican to investigate. Together, they uncover the order's unholy secret. Risking not only their lives but their faith and their very souls, they confront a malevolent force in the form of a demonic nun. Stars Demián Bichir, Taissa Farmiga, Jonas Bloquet. R – mystery, thriller

PEPPERMINT – Riley North awakens from a coma after surviving a brutal attack that killed her husband and daughter. When the system shields the murderers from justice, Riley sets out to transform herself from citizen to urban guerrilla. Channeling frustration into motivation, the young widow spends years in hiding -- honing her mind, body and spirit to become an unstoppable force. Eluding the underworld, the police and the FBI, Riley embarks on a deadly quest to deliver her own personal brand of punishment. Stars Jennifer Garner, John Ortiz, John Gallagher Jr., Juan Pablo Raba, Tyson Ritter. R – drama, thriller
SEARCHING – After David Kim (John Cho)'s 16-year-old daughter goes missing, a local investigation is opened and a detective is assigned to the case. But 37 hours later and without a single lead, David decides to search the one place no one has looked yet, where all secrets are kept today: his daughter's laptop. In a hyper-modern thriller told via the technology devices we use every day to communicate, David must trace his daughter's digital footprints before she disappears forever. Stars Cho, Debra Messing. PG-13 – drama, thriller
CRAZY RICH ASIANS - Rachel Chu is happy to accompany her longtime boyfriend, Nick, to his best friend's wedding in Singapore. She's also surprised to learn that Nick's family is extremely wealthy and he's considered one of the country's most eligible bachelors. Thrust into the spotlight, Rachel must now contend with jealous socialites, quirky relatives and something far, far worse -- Nick's disapproving mother. Stars Constance Wu, Henry Golding, and Michelle Yeoh. Rated PG-13 – drama, comedy
More like this story
SUBMIT FEEDBACK
Click Below to:
This Week's Circulars
To view money-saving ads...