Model Aviators fly high in Chino Valley on Sept. 22

Originally Published: September 20, 2018 9:39 p.m.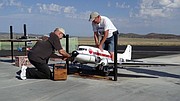 For more than three decades, a club of model aviators have been taking to the skies around Yavapai County and since 1998, they've called their field in Chino Valley home.
They call themselves the Chino Valley Model Aviators and currently there are 143 members involved in the club and that number grows every year, said Secretary Marc Robbins. While there may be a lot more older guys in the club than there are youth, there have been active efforts to get young people involved, Robbins said.
"We offer free instruction to younger people," he said. "It's a tough thing nowadays, there's a lot of other distractions for young kids."
One such distraction is video games which might actually be beneficial towards model aviation, Robbins said. Kids who play a lot of video games have good hand-eye coordination and could become proficient at remote control airplanes, he said.
An additional incentive for younger people is that student membership into the club is $10 per year while the standard is $75 per year, Robbins said.
The club's field, located at 2025 Santa Fe Trail, is an 800 foot by 60 foot runway that runs east to west, according to the club's website.
All pilots must follow the Academy of Model Aeronautics guidelines as well as the club's rules, which can also be found on the website, www.chinovalleymodelaviators.org.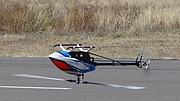 A lot of the older guys in the club have been flying since the 1950s and the club has no lack of people who are willing to use that experience to help out with newer flyers, he said.
"That's one thing that almost everybody in the club will do is they'll put down their own model, they'll come over and help somebody else with their model who's struggling," Robbins said. "Sometimes there's too much help because everybody's willing to come over and help you."
This weekend, the Chino Valley Model Aviators are holding their 12th annual Steve Crowe Fun Fly, for which Robbins is the event coordinator. It takes its name from a club member who flew Spitfires for the British Air Force during World War II prior to the United States' involvement, Robbins said.
Held from 8 a.m. to 3 p.m. Saturday, Sept. 22, the show gives people a look to see what the club does and is going to be a full day of action in the air, he said. Planes will be up all the time so those visiting will have something to look at.
There is no landing fee, though donations are appreciated and all proceeds benefit the Chino Valley Food Bank. All aircraft type and flying styles and there will be helicopter, turbine and 3D flight demonstrations at 9, 10 and 11 a.m. with open flying all other times for Academy of Model Aeronautics members. There's even a parking lot swap meet. A professional model airplane pilot, a member of the club, is expected to be present, too, Robbins said.
"He makes his living flying in competitions and also teaching, giving instruction," he said. "He's going to be putting on a demo flight."
The 12th annual Steve Crowe Fun Fly is held at the club's field. For more information about the club or the Fun Fly, visit www.chinovalleymodelavaitors.org.
More like this story
SUBMIT FEEDBACK
Click Below to: