Beer, pretzels, fireworks at this year's Oktoberfest

Originally Published: September 20, 2018 9:26 p.m.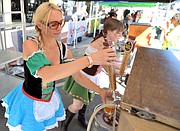 Eat, drink and enjoy some fireworks this weekend at this year's Prescott Oktoberfest where there's 120 beers on tap at Prescott Mile High Middle School.
"It's going to be off the hook this year," said Event Organizer Steve Gottlieb. "The fireworks are going to be there … we have a ton of beers."
The pretzels also proved to be a huge hit last year, Gottlieb said. As such, this year will see 500 pretzels at the event, he said.
Tickets for the Saturday, Sept. 22 event are $50 for VIP tickets, which include early entry and 20 sample tickets, $30 for online presale tickets, $40 for tickets the day of Prescott Oktoberfest and $10 for non-drinkers. Regular admission gets people 10 sample tickets. A portion of the proceeds goes to the Zeitz Sister Cities program.
The event goes from 5 to 10 p.m., with VIP early entry starting at 4 p.m., and will have 120 beers on tap from Hensley Select German Beer and Craft Beers, craft breweries and wineries. Along with the pretzels, JJ's Louisiana BBQ, Safari Samosas, Smokehouse BBQ, Round-Up Mini-Donut Truck and the Gringo Taco Truck will be providing food.
The Zeitz Sister City Oom Pah Pah Band is set to perform at 5 p.m. and Funk Frequency will take over at 7 p.m.
Last call is when fireworks start at 9 p.m., Gottlieb said.
"It'll be a massive show," he said. "I don't think fireworks will ever be downtown again."
Not only is it the last big party of the year, but it directly benefits kids in the community who are involved with the Sister Cities program visiting Germany, Gottlieb said.
For more information about Prescott Oktoberfest, or to purchase tickets, visit www.prescottevents.net.

More like this story
SUBMIT FEEDBACK
Click Below to: