Be a guest at the 12th annual Prescott Powwow

Originally Published: September 20, 2018 9:29 p.m.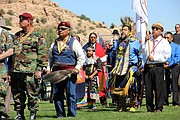 The public is invited to be a guest at this year's 12th annual Prescott Powwow, happening this weekend at Watson Lake.
However, Chairman Manuel Lucero IV cautions those who attend to remember that they are a guest and it's not a performance or an entertainment production.
"It is a native gathering," Lucero said. "We are there to dance and pray and sing and visit and have a good time."
Organizers do want to share with the public and have them come out and learn though, he said. Also, during the intertribal dances, he said people shouldn't be surprised if someone is invited to dance with the dancers. If someone is invited to dance, powwow etiquette dictates that the dance should be respectful, honoring the powwow and the people, according to the Powwow Etiquette page found on the Prescott Powwow website. Watch the other dancers to know what to follow.
Other etiquette includes considering the privacy of dancers and singers and making sure to ask permission before taking pictures or video and not touching dancers' outfits.
"Regalia has special meanings and many of the handmade outfits, which can cost thousands of dollars, are cherished and sometimes made by a respected family member," the site states. "Do not touch the drums either without getting permission."
If anyone isn't sure what to do, look around at what everyone else is doing or ask, Lucero said. Most are open to sharing and explaining about what's going on, he said.
It starts on Friday, Sept. 21 around 3 p.m. with Gourd dancing followed by the Grand Entry at 7 p.m., continues Saturday, Sept. 22 with the Gourd dance at 10 a.m. and 4 p.m. with the Grand Entry at 1 and 7 p.m. and concludes Sunday, Sept. 23 with the Gourd dance at 10 a.m. and the Grand Entry at noon.
This year, the Head Man is Dwayne Pierce from Tucson, the Head Boy is Derek Cooper from Sacaton, Arizona, the Head Woman is Sue Sixkiller from Phoenix and the Head Girl is Twyla Begay from Prescott Valley.
This year also sees a $1,000 drum contest, Lucero said.
"That ought to bring out some of the best drums in the state and surrounding areas," he said. "It'll make the music even better."
Admission to the Powwow is free and parking is $5. For more information about the Prescott Powwow, a full schedule or for more points of etiquette, visit www.prescottpowwow.org.
Watson Lake is located at 3101 Watson Lake Park Road.
More like this story
SUBMIT FEEDBACK
Click Below to:
This Week's Circulars
To view money-saving ads...