'Angel' to those in need calling on community to help him keep his home
Homeless advocate homeless?

By
Nanci Hutson
|
HutsonNanci
Originally Published: September 20, 2018 8:48 p.m.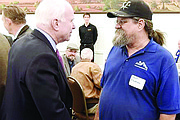 Daniel Mattson is a well-known figure in Prescott's hidden world of the homeless and vulnerable.
The 57-year-old is the guy who answers the call to his cellphone at 3 a.m. from someone seeking a ride to the crisis center for one of the city's less fortunate who is on the verge of a breakdown. He is the guy who revives a dying car engine for a mother who depends on it to keep her job.
On weekends, Mattson volunteers with the Granite Creek Hunger Ministry to feed about a hundred homeless men and women — he stores the grills, tables and supplies at his rented downtown home. On many a Tuesday afternoon, the bearded man with long hair flowing from beneath a ball cap can be found in the City Council's chambers championing compassion for those he knows need it the most.
For almost a decade, the area's homeless and nonprofit leaders have relied on this one-time mechanic as the loyal Good Samaritan to the troubled, the lonely and the lost.
One nonprofit leader calls him an "angel." One of his grateful "clients" called him a humble servant of others who saves lives because of his selfless generosity.
How to help
Anyone wishing to help Daniel Mattson buy his now rented home in downtown Prescott can do so through this GoFundMe link
"Daniel helped me so many times, in many ways, and was a bulwark for me," wrote the client, Elaine Sisler. "He is humble and unassuming in his manner, but there are many untold stories of the incredible help he has given to so many in the area."
Now, though, Mattson is on the other side — the home he and his wife, Grace, have rented in downtown Prescott at an affordable rent of $750 a month is about to be sold.
His landlord is willing to sell him the property for $120,000 — minus an additional $5,000 in earnest money toward the down payment. The hitch is that this former mechanic and his wife, who live on a modest, fixed income, must arrange an affordable financing deal that will enable them to take ownership no later than early November. Area rentals, particularly those that would enable him to continue his volunteer ministry, are out of their price range.
"I've helped this community for 10 years, and now I'm asking the community for their help," Mattson confessed.
A GoFundMe account was established at the end of August to help Mattson reach a goal of $40,000 — he needs at least $24,000 for the immediate down payment. To date, the account has raised just over $3,000, including one anonymous donation of $1,500. Another donor gave him the $5,000 he needed to secure a potential ownership deal.
Mattson's GoFundMe page contains a number of testimonials from those he has helped to non-profit leaders who have come to depend on his steadfast and selfless work. He is not employed by any one agency, but at the ready to help any and all, they said.
"Daniel Mattson is one of Prescott area's most valuable assets, as he passionately loves and serves the local poor," Sisler wrote. "He has helped thousands, and saved multiple lives."
In a typical week, Sisler said, Mattson will drive countless men and women with no transportation to do errands or to a doctor's appointment. He is called all hours of the day and night for non-life threatening transports to the emergency room or the crisis stabilization unit. He is a member of the Yavapai Regional Transit board.
"He is our 'Angel,' and staff, volunteers and the people we serve often talk about our 'Angel' and what he provides to our community," said Carmen Frederic, executive director of Prescott Area Shelter Services. "Daniel not only provides amazing services for free but he genuinely cares about people and our community.
"Daniel has always been there for PASS with anything we have ever asked of him and we would miss him greatly if he had to leave."
Mattson is the "rare soul" who tries to bridge gaps in services for the city's most vulnerable, including those suffering with addictions or mental and physical illnesses, said another civic leader, Alexandra Piacenza.
Coalition of Compassion and Justice Executive Director Jessi Hans wrote that she finds Mattson's passion for homeless advocacy to be inspirational. She said the agency's clients not only depend on Mattson's willingness to help but "have been changed because of it."
Mattson considers his advocacy and search for "creative solutions to crisis" a faith-inspired mission. And he prays he can continue to serve those living on the fringe.
It all boils down to finding the dollars so he is able to stay — and it needs to happen soon. In October, Mattson said he will need to assess where he stands.
"I love Prescott and I'd love to spend the rest of my life here," Mattson said. "But I do need help."
Anyone wishing to help Daniel Mattson buy his now rented home in downtown Prescott can do so through this GoFundMe.com link: https://www.gofundme.com/local-hero039s-home-at-risk
SUBMIT FEEDBACK
Click Below to:
More like this story