Mountain Artists Guild raises money for scholarships
More than $15,000 worth of items in auction this year, president says

Originally Published: September 19, 2018 8:01 p.m.
Mountain Artists Guild is crafting an "Unforgettable" auction Saturday, Sept. 22, to raise money for scholarships going to students pursuing degrees in the visual arts.
Oftentimes, people forget the importance of art in the community and for students, said Mountain Artists Guild President Cathleen Rainey.
"It has been proven that students who take art have better cognitive skills, they stay in school longer; in fact, they have a lower drop-out rate, it boosts their self-esteem, increases their brain conductivity, and makes them better students for life," Rainey said. "The importance of art in young people is very, very underestimated."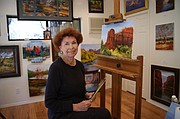 This year, Mountain Artists Guild awarded $5,000 in scholarship money to students in the quad-city area with $3,000 of that coming from last year's auction, she said. Starting at 5:30 p.m. in the Mountain Artists Guild gallery, Saturday's auction has more than $15,000 worth of items, though Rainey said she would be pleased even if only half of that amount was raised.
Included in the auction is jewelry from Raskins Jewelers, wine baskets, gift cards, one hour in a flight simulator, a painting by French painter Yves Cairoli created during the Voila Tour's kickoff and a party for four with appetizers and a wine tasting at Cellar 433 in Jerome followed by two rooms at the Grand Hotel with breakfast in the morning. Works were donated by local artists such as Eric Slayton, Bonnie Casey, Holly Harmon, J.D. Fox and Lyn Delano, with private art lessons donated by Patrick Harper and Harold Nelson.
"Every single thing that is raised from that auction goes directly into the scholarship fund," Rainey said. "It is spent on nothing but scholarships."
Every item up for auction was donated by the business community and artists. There is a silent auction and a live auction. Catering will be provided by Big Daddy E's and Shannon's Cheesecake.
Tickets are $25 per person and can be purchased online at www.mountainartistsguild.org or at the gallery, 228 N. Alarcon St.
In the past, the auctions have mainly been centered on artwork, she said. The decision was made to change things up this year, Mountain Artist Guild Board Member Janis Keeling stated in a news release.
"We wanted to appeal to a broader audience with a wider variety of auction items, in addition to art," Keeling said.
This was how the event's name for this year, "Unforgettable," came about, Rainey said. It's an opportunity to have an unforgettable experience with new things, she said.
Seating is limited, for more information, call 928-445-2510.
More like this story
SUBMIT FEEDBACK
Click Below to: