Johnson: New Mexico's high point is Wheeler Peak
Hiking Arizona

Originally Published: September 19, 2018 9:50 p.m.
This is my favorite alpine hike. First, it is an excellent training hike for more serious alpine treks such as Mt. Whitney. Second, Trail 91 on the east side of the range offers an excellent chance to spend three glorious days really getting away from it all in a setting that attracts hikers from Texas to California. Third, it offers a very pleasant surprise: Rocky Mountain Bighorn Sheep.
Alpine Training
My daughter asked me to hike with her to the summit of Mt. Whitney. It was on her bucket list. What's on your hiking bucket list? If it's Mt. Whitney, Wheeler Peak, New Mexico, is just what the trainer ordered.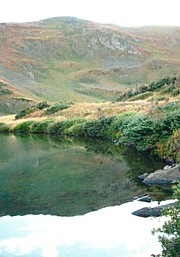 It wasn't long before others wanted to join this little trek. The date was set for October, hoping that the off season would make it easier to secure the necessary permits. My daughter and her friend lived in California and Oregon, so they had to handle their own training regimen. I took my friend hiking on progressively higher summits, all the way to Wheeler Peak.

While Mt. Whitney and Wheeler Peak can both be hiked in a day, it is more worthwhile to reach the summits over the course of a few days. This also allows for being better acclimated for the summit push above 13,000 feet. It was barely enough time for my daughter and her friend, as they experienced a much more difficult time than we did. They did not train on progressively higher summits. They struggled with the altitude and took much longer to reach the summit, though they are much younger and in better shape. But, there's more to reaching the summit of a challenging peak than meets the eye.

In choosing Trail 91 on the east side of Wheeler Peak, we would match the length of time we had planned for Mt. Whitney. Not only does this prepare you physiologically, it teaches you about general alpine conditions commonly encountered, such as exposure, winds, lightning and chilly nights.
Three Days
Day hikes have their advantages as well as disadvantages. Going all the way to New Mexico warrants taking more time to appreciate what the area has to offer. I was glad to visit with hikers from Texas, see people fishing in several alpine lakes and enjoy the vast panoramic views as we inched our way higher and higher. Wildflowers galore and numerous streams delighted eyes and ears as we rounded each bend in the trail. This trail was not crowded, suggesting it was used by more serious hikers and though illegal, a couple of mountain bikers as well.
Rocky Mountain Bighorn Sheep
As the forests begin to thin, approaching timberline, Rocky Mountain Bighorn Sheep seem to appear around every corner, across the vales and along the alpine ridges running, munching and staring at you with little apparent concern. They are often in small groups, young and old. Perhaps they get a little more skittish around hunting season, but they looked at us with what seemed like only mild curiosity. I have not seen these in Arizona, though I have seen Desert Bighorn Sheep, but that rare event is another story.
Now that summer is technically over this weekend, let's turn our attention to fall hiking. The final two hikes in this series of hiking higher to stay cool, are found where the fall colors will knock your socks off: Mount Hesperus and Mount Elbert, not far from Aspen, Colorado.
Glorious!
Ted Johnson is a columnist for The Daily Courier. Reach him by email at sportsdesk@prescottaz.com.
More like this story
SUBMIT FEEDBACK
Click Below to: