Monsoon season giving final push; Thunderstorms expected Wednesday

By
Max Efrein
|
mefrein
Originally Published: September 18, 2018 7:08 p.m.
Monsoon weather lovers will have at least one more chance to enjoy the brilliant thunder and torrential rains that often visit northern Arizona between July and October.
Beginning early Wednesday, Sept. 18, monsoonal moisture will be working its way back into central Arizona and then continue north and west throughout the day, according to the National Weather Service.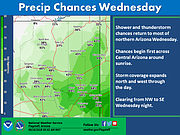 "Some storms could become severe, with large hail approaching 1 inch diameter," said Curtis James, professor of meteorology at Embry-Riddle Aeronautical University.
Exciting – and perhaps a little terrifying – as it is, experts like James said such storms may not return until next year.
"This could be the end to the summer thunderstorm season," James said.
Arizona's monsoon season traditionally begins sometime in mid-to-late June and usually wraps up by the end of September.
These last couple of dry weeks for the Prescott area have been indicative of a seasonal shift.

"We're starting to see the troughs moving down from the northwest, and that's more of a winter weather pattern," said David Byers, a meteorologist with northern Arizona's National Weather Service office. "That kind of shuts off that monsoonal moisture coming up from Mexico, Baja and that area."
In addition to drying, this gradually brings in cooler temperatures. From Thursday through the weekend, the air over Arizona will be about 5 to 10 degrees cooler than it has been recently.
"The cooling will be just in time to usher in the first day of fall (Sept. 22)," James said.
Looking back, the monsoon season this year has already been generous. Since June 15, the National Weather Service's official precipitation gauge at the Prescott Municipal Airport has received 8.24 inches. The normal accumulation amount between June 15 and Sept. 18 is 5.97 inches.
Similarly, Prescott's Sundog weather station had an exceptional year. Since June 15, it has received 12.2 inches of precipitation. The normal at that location is only 7.33 inches.
Follow Max Efrein on Twitter @mefrein, email him at mefrein@prescottaz.com or call him at 928-445-3333 ext. 1105.
More like this story
SUBMIT FEEDBACK
Click Below to: