Kennel Club hosts 4th annual dog show this week
Event Center gone to dogs
Heidi Dahms Foster
Originally Published: September 18, 2018 6:46 p.m.
When the Prescott Arizona Kennel Club moved its annual championship show from Chino Valley indoors to the Prescott Valley Event Center, it started with two days of conformation and obedience competitions.
Now in its fourth year, the show has maxed out both the available space at the Center and the number of shows the American Kennel Club will allow in one weekend, Sept. 20-24.
Starting Thursday, the Event Center and surrounding grounds will be the place for all things dog, beginning with numerous "specialty," or single breed, shows. The Swedish Valhund Club of America is one club conducting its National Specialty at the Event Center this year, with an attending herding trial in Dewey.
On Friday and Saturday, the Prescott Club will host two all-breed shows, and on Sunday and Monday, Kachina Kennel Club will bring two shows, with an average of 1200 dogs per show. Also included are Rally Obedience and Obedience trials, lure coursing, Canine Good Citizen Testing, canine health screening, Junior Handling competition and a virtual mall of dog-related vendors. On Saturday at noon, a special "Pee Wee" handler competition, geared to children ages 5-9, will be a must watch event.
It's always fun to visit the shows and check out your favorite breed, and see some canines you never knew existed. This year, the Hungarian Mudi, a herding breed, is one of the more unique breeds attending.
The conformation portion of the show, through a process of elimination in each breed, whittles down the number of dogs entered to just one representative for each of seven groups - Herding, Working, Non-Sporting, Sporting, Toy, Hound and Terrier. Those seven dogs compete for Best in Show, with just one Best in Show and one Reserve Best in Show chosen each day.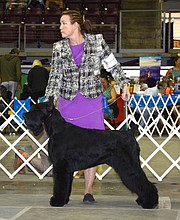 Large entries this year in Saturday's all-breed show include more than 50 Chihuahuas, 29 Dogues de Bordeaux, 36 Boxers, and 25 French Bulldogs. Some of the lesser known breeds include two Italian breeds - the Spinoni Italiani, and gundog and family pet, and Lagotti Romagnoli, a water retriever that also is used to hunt for truffles. Some have names that for obvious reasons are shortened, such as the Petits Bassets Griffons Vendeens (PBGV), a small scent hound bred to hunt hares.
Junior handlers are the future of the dog show world, and the Prescott Arizona Kennel Club shows pull out all the stops to support the youngsters. Beside the competition for Best Junior Handler at each show, juniors enjoy educational events, great prizes, and competition for Best Overall Junior Handler.
Don't miss a stroll through the RV parking and grooming areas to see the setups and the work that goes into prepping a dog for its moment of fame. With an average of two minutes per show to present to the judge, perfection in grooming and training is the goal of every handler.
If you love to shop, be sure to check out the vendor area in the concourse. Everything dog-related from artwork to beds to apparel to grooming and training supplies to treats will be on sale at more than 20 vendor booths.
The Prescott Arizona Kennel Club this year will present donations to the Prescott Valley Police Animal Control for its school dog safety program and to its K9 program, along with donations to Yavapai County Sheriff's Office and Chino Valley Police K9 programs. Prescott Police received a donation in 2017.
Shows start at 8 a.m. each day and continue through the afternoon until complete. Admission for spectators is free, but there is a $5 parking fee. Food will be available for purchase, and no outside food or drink is permitted. Baby strollers also are not permitted inside the building. No un-entered dogs are allowed on the show grounds.
To view a detailed judges program including breed and show times, visit www.onofrio.com/jp/praz1jp.pdf. For additional information, call Show Chairman Rich Mysliwiec at 720-427-2066.
More like this story
SUBMIT FEEDBACK
Click Below to:
This Week's Circulars
To view money-saving ads...