Rash of vehicle thefts, burglaries strike Granville in Prescott Valley
One theft leads to high-speed chase to Phoenix

By
Max Efrein
|
mefrein
Originally Published: September 17, 2018 6:05 p.m.
Updated as of Tuesday, September 18, 2018 10:54 AM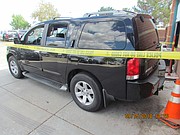 Between Friday, Sept. 14, and Sunday, Sept. 16, the Prescott Valley Police Department (PVPD) responded to reports of over twenty vehicle burglaries and four vehicle thefts that took place within the Granville subdivision of Prescott Valley, according to a PVPD news release.
One of those thefts resulted in a high-speed chase that ended in Phoenix with the arrest of three juvenile suspects (all 16 years old).
The chase began in Prescott Valley shortly after a white Volvo sedan and a black Nissan Armada were reported stolen from the 6800 block of E. Kilkenny Place and the 4000 block of N. Robin Dr. in Prescott Valley, according to police reports. When pursued by a PVPD officer, the drivers of the vehicles were reportedly travelling at well over 100 miles per hour within the Prescott Valley and Prescott area, where they temporarily evaded law enforcement.
The Nissan Armada was soon found abandoned in Prescott and towed back to the Prescott Valley Police Department, police reported. High-speed pursuit of the stolen Volvo later continued on Highway 69 and then I-17 until the vehicle ran out of gas in the area of 51st and Indian School Road in Phoenix.
The three suspects in the Volvo then fled on foot, but were eventually taken into custody by Arizona Department of Public Safety (AZDPS) troopers, AZDPS reported. All three live in the Phoenix area, said PVPD spokesperson Jason Kaufman.
Both stolen vehicles were processed for DNA, fingerprints and evidence of the crime. When searched, numerous pieces of stolen property from various victims that live both in Prescott Valley and Prescott were found, including guns, body armor and jewelry, PVPD reported. There were also illicit drugs and drug paraphernalia.
Police are still working to identify the rightful owners of the stolen property. If anyone has been the victim of a vehicle burglary or residential burglary recently and are missing personal belongings that were stolen, they may reach out to the Prescott Valley Police Department evidence unit (928-772-5623) to ask whether or not they have recovered any of the stolen property.

Given the recent crime spree, the PVPD is advising all Quad-city community members to safeguard their belongings from potential theft.
"Protection from criminal activity is as much – if not more so – the responsibility of citizens as it is the police department," Kaufman said. "Please lock your vehicles; do not leave any items of value, including purses, wallets, money and/or weapons inside your unattended vehicle; remove garage door openers (so suspects do not have access to your house)."
And as always, "If you see or hear something, say something," Kaufman said.
Follow Max Efrein on Twitter @mefrein, email him at mefrein@prescottaz.com or call him at 928-445-3333 ext. 1105.
More like this story
SUBMIT FEEDBACK
Click Below to: