Why people buy guns: Majority of owners say self-defense key reason

Originally Published: September 16, 2018 7:17 p.m.
Eileen Sherrill stood in front of the counter at Prescott Gun Club. Today was the day — she was buying her first gun.
"I always want to feel confident about taking care of myself," said Sherrill, a Prescott resident.
She said she doesn't want to end up on the front page of the newspaper.
Sherrill's story is not atypical.
A majority of the people who buy guns are doing so for self-defense, said Matt Seibert, president and co-owner of Insight Firearms Training Development. Depending on the study, it's somewhere around 63 to 69 percent, Seibert said.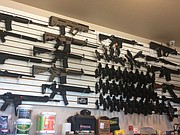 Additionally, women have been the fastest growing area of firearm sales in the nation for the last six to eight years, said Insight General Manager Ivy Jones. They are taking the front seat in their own self-defense, getting into various martial arts and other self-defense classes as well as buying firearms anyone can shoot no matter what shape they're in, or their build, Jones said.
Prescott Gun Club has seen the trend of more women owning firearms, said Prescott Gun Club Co-Owner Don Grier. The Well Armed Woman shooting club has grown along with the club's ladies nights and the A Girl & A Gun that the range hosts, Grier said.
"About 50 percent of our shooters here are women," he said. "It's a really growing aspect of the sport."
At Insight, Jones said, women of all ages come in, whether they are a teenager who has been taught by their parents or a widow who in their later years has lost the person responsible for their protection and now needs to protect themselves.
It's gratifying to see he women walk in and shed their fear once they realize buying and owning a gun isn't scary or difficult, she said.
"When you're trained properly, it's very easy to be accurate and safe and confident with a firearm," Jones said.
There are some real issues in the country, and even Prescott, where people have a 1 in 247 chance of being a victim of a violent crime, and a 1 in 47 chance of being a victim in property crime, said Seibert. While Arizona law says a firearm can't be utilized to protect property, it can be used to protect yourself, he said.
A sense of vulnerability also comes with age, Seibert said. At his age, he is going to have a hard time even with a martial arts background if a young person walks up looking to harm him, he said.
"The gun would be the only equalizer when there's a disparity of force like that," Seibert said.
Self-defense is not the only reason people buy guns, Seibert said. They are definitely a part of sporting in terms of hunting or shooting, he said. There are 17 different events with firearms, and the U.S. has the most gold medals accumulatively in those events, he said. About 3 percent of guns are purchased for shooting sports and about 46 percent are for those who wish to hunt, Seibert said.
Grier noted some people enjoy collecting firearms.
"There's a lot of popular guns that people want, and whenever something new comes out, they want to be the first to have it," he said. "Like when a new car comes out, they want to have the new model of the car."
Guns are a part of America's culture and have always been a part of who Americans are, Seibert said. America won her independence from Britain with guns, they was an integral part of the Old West, and even today with the amount of police shows, for instance, everything is gun oriented, he said.
The position of firearms in American culture may be why there are 393 million guns in the hands of American civilians today, Seibert said.
Alongside all of those reasons, gun ownership is fun, Seibert said. Guns offer owners a sense of accomplishment to be able to create a synchronization between the mind and the body, he said.
Jones agreed.
"There's a sense of pride, there's a sense of empowerment, there's a sense of confidence that comes with owning a firearm," Jones aid.
More like this story
SUBMIT FEEDBACK
Click Below to: