Remembering local WWI fallen soldiers
Veterans memorial advocate honored with national DAR Excellence in Community Service Award

By
Nanci Hutson
|
HutsonNanci
Originally Published: September 15, 2018 8:58 p.m.
Anyone who meets Betty Bourgault is likely to describe her as friendly, kind, creative and busy.
What they might not catch immediately is that this 76-year-old Yavapai County Daughters of the American Revolution chapter member is a relentless fighter for patriotic and other community causes that garner her passion. The Massachusetts native who has family roots that go back to the Mayflower is not a bench warmer. She will does not rest until she finishes what she sets out to accomplish — whether it is researching Prescott frontiers men buried in Citizen's Cemetery or hunting down Prescott's war heroes.
"My sister (Judith Nelson) calls me a troublemaker, and I'm not really. I just stand up for what I know is right," said Bourgault, the founder and researcher of Prescott's All Veterans Memorial Plaque Committee.
On Flag Day in 2016, Bourgault was beyond elated to complete a two-year research project to add 32 names to the memorial plaque recognizing departed veterans from World War I through the Global War on Terror.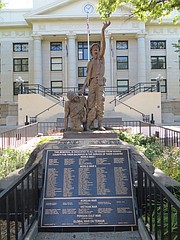 As part of her research to add these names, Bourgault not only pored over historical archives but she also met with families of these lost heroes.
"It was so emotional, and so educational," said Bourgault, who moved to Prescott in 2004 with her husband, Herbert, who served in the United States Navy during the Korean War. The couple has two adult sons and a daughter — John, Paul, and Kathleen — and four grandchildren. Her son, John, is a 20-year U.S. Army veteran who in 2004 earned a Bronze Star for his service in Iraq. "The best thing I've done in my life is to honor these fellows."
In April, Bourgault's dedication to this project, and her continuous commitment to bettering her community, earned her a recognition for which she is rightfully proud: the Arizona Chapter of the Daughters of the American Revolution honored her with its national DAR "Excellence in Community Service Award."
At the ceremony in Phoenix, Bourgault shared the story of two of the soldiers among all those whose names that were able to be added to the plaque. When she was done, she was given a standing ovation.
The local DAR regent who nominated Bourgault, Sue Burk, said this honor is so fitting for a woman who refused to be swayed by any obstacles to assure these veterans' sacrifice is properly recognized.
"She is so committed to recognizing veterans and their service, especially those who live in Yavapai County," Burk said, noting Bourgault is also a quilter and local guild member who has crafted wall hangings for veteran families.
She said the local chapter prepared her nomination that honed in on one aspect of her community service because the state and national chapters "don't have as much time to gush on her as we do."
RETIREMENT
Bourgault's activism did not begin in retirement.
Back in her home state, Bourgault worked in the medical field as an administrative assistant until her retirement in 2002, and during her off-duty hours was an active volunteer in the schools and community.
She was one of the more vocal protestors of a move to erect a police station on a nature trail behind a local elementary school. For 18 months, Bourgault doggedly pursued finding environmental and land deed evidence to protect the area. She sent letters to newspapers, and called police departments. Despite some personal retaliation, Bourgault persisted until a compromise was reached. The police department built a station closer to a town road and the neighbors kept their natural trail.
Soon after relocating to Prescott, Bourgault opted to get involved in her new community. She joined the Yavapai Cemetery Association and adopted three grave sites at Citizens Cemetery, conducting extensive research on the individuals buried in those plots. She is an active member of Sacred Heart Roman Catholic Church and the local DAR chapter.
When she's not doing veteran-related research projects — she now wants to do an update for Prescott High School — Bourgault makes quilts and visits art and historic museums; she has a particular interest in Native American art. She, too, never forgets to make memories with her family.
"She's dynamic. She's energetic. And she's determined," Burk concluded.
Follow Nanci Hutson on Twitter @HutsonNanci. Reach her at 928-445-3333 ext. 2041.
More like this story
SUBMIT FEEDBACK
Click Below to: